9 things to know about Zuri Tibby, Victoria's Secret PINK first black spokesmodel
September 15, 2016 at 7:03 pm
Victoria's Secret PINK just enlisted its first black spokesmodel. Zuri Tibby, has been a model for the women's lingerie brand for almost two years and recently announced her promotion as the brand's new spokesmodel. This is definitely a move in the right direction for VS, whose first model with natural hair slayed the runway last year.


Though there is still more work to be done in the industry, here are 9 things you need to know about the Victoria's Secret PINK spokesmodel Zuri Tibby.


1. She was discovered when she was a teenager at a mall in Florida!
"I was discovered when I was really young. I was 15," Zuri told Yahoo News. "I was walking around the mall after work and [someone from my now] agency came up to me."


2. Her first job was working at a playground.

Photo: Victoria's Secret




"My funniest memory of it is chasing people, making sure they were wearing socks at all times," Zuri said of her first job, which required kids to wear socks. "I would chase them with socks in my hands — trying to give socks to people. I worked there for probably two months during the summer."


3. Zuri landed her first modeling gig for Teen Vogue.
Tibby remembers being nervous during her first shoot. Her mom, though, made the trip with her to New York. "I'd never experienced anything like that before — the whole production and hair and makeup. I loved it from that first shoot," she said.
4. She worked with Rihanna on her Stance campaign.
Tibby has come a long way from her beginning at Teen Vogue. She's now been featured in Vogue Italia, Vogue Japan, Elle UK, and Interview Germany. Most importantly, she's modeled with everybody's favorite Bajan pop star, Rihanna.


"Think of the coolest person you know, and then think of that times, like, 500," Tibby said of Rihanna to W Magazine. "She's like a goddess. I'm not worthy."


5. She cites Naomi Campbell as one of her "biggest inspirations."
Naomi Campbell is one of the few people Tibby has posted on her Instagram. In one post Naomi and Rihanna are pictured side-by-side, which Tibby captioned "(not pictured @angelzuri)."


6. She's only 21.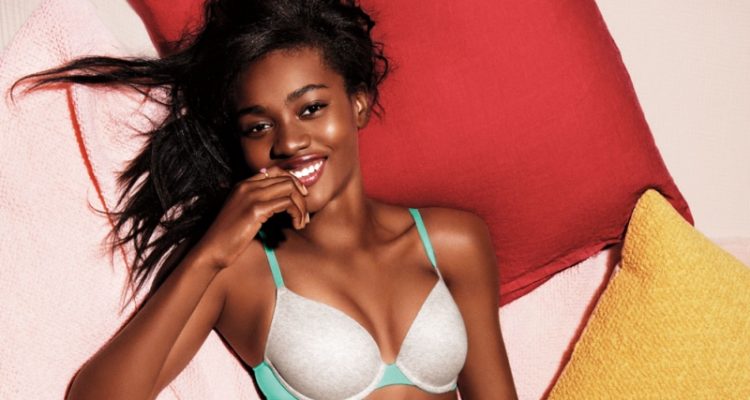 The model turned 21 on September 1st, shortly after landing this new gig with Victoria Secret's PINK.


7. But she's a master plotter and schemer.
Zuri Tibby is no Joanne the Scammer but she is quite crafty. She told W Magazine that Victoria's Secret has always been in her sights. Her Instagram handle has been @angelzuri "for, like, ever," she said. "I copied Candice."


8. Who's doing it for the culture? Zuri is.
"I feel very proud and honored that a lot of other women of color look up to me," Tibby said in an interview with Cosmopolitan. "It's so important to inspire people. When young girls look at magazines and advertisements, it's important to see girls that look like them. It's very encouraging."


9. And she's proud of her natural hair.
"In most of my photo shoots, I wear my natural straight hair. I think my hair is beautiful either way," Tibby said. "Natural hair is something everyone should embrace. It's celebrated more now than it ever has been before."


---
---