Music
President Agent Orange: A Look At The Grammys' Biggest Political Statement
A Tribe Called Quest featuring Busta Rhymes and Anderson .Paak. Doesn't get much better than that.
Photo Credit: Photo: Kevork Djansezian / Getty Images
Like what you're reading?
Get more in your inbox.
This year, leave it to hip-hop to once again make the most political statement of the night.
A Tribe Called Quest performed a few songs from their latest album, We Got It From Here… Thank You 4 Your Service, their first group project in 18 years. Q-Tip opened the show by saying, "to all those people around the world, all of those people, who are pushing people who are in power to represent them: tonight, we represent you." Anderson .Paak started off the performance with "Movin' Backwards" keeping the vibes very smooth as only he can do while simultaneously killing the drums.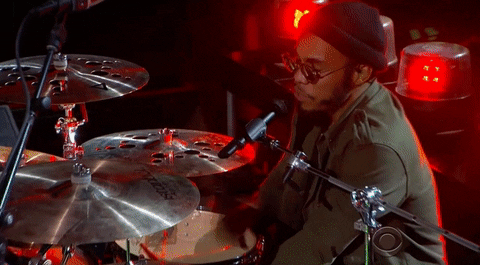 Photo: Giphy
Just when you thought that was it, Busta Rhymes and Consequence steps onto the stage, taking the performance to a whole new level. "I'm not feeling the political climate right now," Busta announces. "Thank you, President Agent Orange for perpetuating all the evil that you're perpetuating throughout the United States."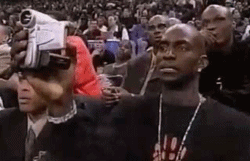 Photo: Giphy
Busta then went on to denounce the President's "Muslim Ban" and had a mix of people from all different ethnicities, religions and genders "knocking down" a makeshift version of Trump's wall. The heavy hitters then went into an electrifying performance of "We The People...."
A Tribe Called Quest perform with Anderson .Paak, Busta Rhymes and Consequence at the #GRAMMYs pic.twitter.com/Kz35sUTEs7

— Wolé II (@Kingwole) February 13, 2017
They ended the performance with fists raised in the air, chanting "resist!" Although the album was released well before Trump was announced President, it's quite interesting how spot on the lyrics are to today's current events. The hook of "We The People…" specifically calls out black folks, Mexicans, poor folks, Muslims, and gays, stating that they are bad folks. Sounds familiar?
At their listening party back in November, ATCQ told Vanity Fair, "Yo, funny thing is, we wrote a lot about Trump, about what's going on, kind of foretelling this shit.. especially Phife . . . he had a crystal ball or some shit."
Although they didn't use his name, I'm sure 'Agent Orange' is warming up those thumbs for a Twitter rant in 5, 4, 3, 2...