News
Bow Down! Beyoncé And Jay Z Are Still The Highest Paid Celebrity Couple
The Carters STILL run this town tonight.
Photo credit:Photo: Ron Schwane/Associated Press
America's royal couple is still bringing in that top bank!
Earning a combined $147 million in the past 12 months, Beyoncé and Jay Z have maintained their cash crown and top couple-earning spot on Forbes' annual Celebrity 100 list. The Carters are also the only married couple on the list.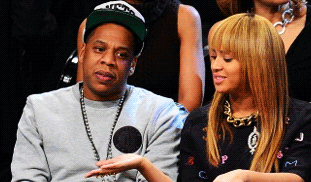 Like what you're reading?
Get more in your inbox.
Black love reigns supreme!
Jay Z summarized one of the secrets to their success in a 2011 interview with Steve Forbes and Warren Buffett. "For many years artists were dying broke, because the record companies took advantage of them," Jay Z said then. "As entertainers, we're the first generation to capitalize on our talent."

Queen Bey is scooping the most dough between the two, with $105 million pretax under her bedazzled belt, which is the second-highest sum of any on-camera entertainer in the world, right behind Diddy ($130 million). Bey's wealth mostly comes from her Formation World Tour, which grossed a quarter of a billion dollars. Her Pepsi endorsement deal also significantly helps with her total.
Unlike his superstar wife, Jay Z hasn't been performing many live shows within the past year. He earned $42 million over the past 12 months, but that is sure to increase with his upcoming $200 million touring deal with Live Nation. His very own Made In America festival is part of that deal. Jay Z also has a slew of businesses, including Armand de Brignac champagne and the Roc Nation entertainment company.
Also helping their total is their jointly-owned streaming service Tidal! Tidal has racked in a total fortune of over $1 billion.

The Carter hype train ain't stopping anytime soon! Much like her husband, we cite a Forbes interview from years ago (2009), in which Beyoncé said, "I've worked too hard and sacrificed too much to do something silly that would mess up the brand I've created all of these years."
Next year, their fortunes will likely rise even more.
---
Sponsored Content
How Transformational Speaker Justin Michael Williams Motivates And Inspires Those Who Feel Discouraged