Cardi B's Magical Year Keeps Getting Better As Migos' Offset Proposes To Her In Philly
With the success of "Bodak Yellow" and her engagement, 2017 is the year of Cardi B.
October 28, 2017 at 2:18 pm
Rapper Offset of the rap group Migos proposed to newly-crowned pop icon Cardi B in Philadelphia Friday night to the surprise of every person in attendance.
In the middle of the Power 99's Powerhouse concert, Offset stooped down and declared his love for Cardi B. The Bodak Yellow artist jumped around on stage with the jubilation of a small child as she was presented with the engagement ring.
OFFSET
JUST
PROPOSED
TO
CARDI B#PowerhousePhilly@Power99Philly
pic.twitter.com/0i4mC6NQQ7

— Wells Fargo Center???? (@WellsFargoCtr) October 28, 2017
Cardi and Offset are engaged!!! pic.twitter.com/PVUMffp6Qd

— BK (@bkdudee_) October 28, 2017
And Twitter was just as happy for her as she was for herself last night.
Cardi and Offset really got engaged tho… major congrats. The whole Hood finna be pullin up on the wedding's dance floor like pic.twitter.com/rgD3Eedon6

— Villaz (@ChrisVillaz) October 28, 2017
And, we've finally reached the "happily ever after" point to the story, Cardi B and Offset: A hood fairytale. pic.twitter.com/IgXXUbtzsB

— ✊????✊???? (@terri_zhane) October 28, 2017
Nigga Offset heard Cardi B ex out of jail and locked it down immediately

— Big Banter (@FatherTone) October 28, 2017
The engagement comes nearly a week after rumors claiming the rap power couple had split due to Cardi's ex coming back into the picture. But like most rumors, that was not the case.
Offset shared a video of Cardi B's 8-karat diamond engagement ring on his Instagram story after their jaw-dropping performance.
While most of the audio from video from the concert was inaudible or distorted, Cardi B's reaction said it all.
And to hammer the point home, Offset's caption of the video on his Instagram story read, "She said yes." It is hard to root against Cardi B because her story continues to be an inspiration to anyone who has had to start at the bottom.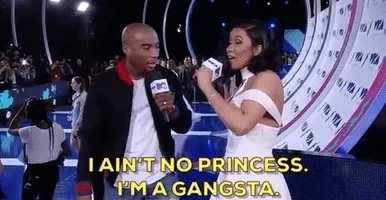 Congrats!!