Update (October 12, 2018): On Thursday, Colin Kaepernick was presented with Harvard University's highest Black culture award during the W.E.B. Du Bois Medal Ceremony.
"I feel like it's not only my responsibility but all of our responsibilities as people that are in positions of privilege, in positions of power, to continue to fight for them and uplift them," Kaepernick said in his acceptance speech, via WHDH.
Other honorees included comedian Dave Chappelle, General Catalyst managing director Kenneth Chenault, Rensselaer Polytechnic Institute president Shirley Ann Jackson, Avid Partners, LLC founder Pamela Joyner, psychologist and author Florence Ladd, Equal Justice Initiative founder and executive director Bryan Stevenson and artist Kehinde Wiley, The Associated Press reports.
In his speech, the former quarterback also touched on the hugely popular and controversial Nike "Just Do It" ad which bears his face.
"As I reflected on that, it made me think of if we all believe in something, we won't have to sacrifice everything," Kaep said.
Congrats, Kaep!
Original: Following Colin Kaepernick's Nike endorsement, folks have been busy hopping aboard the #ImWithKap train.
You know who's also here for Kap? Harvard University.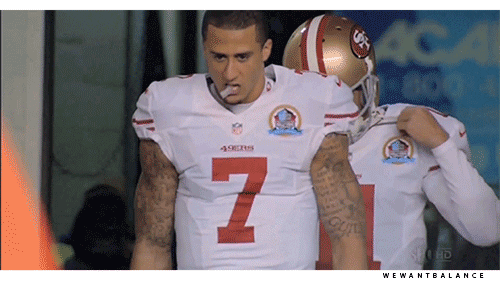 The former San Francisco 49ers quarterback will be awarded the W.E.B. Du Bois Medal on October 11, CBS Boston reports. The medal is the highest honor bestowed on individuals by the Ivy League institution's African American studies department.
"The medal honors those who have made significant contributions to African and African American history and culture, and more broadly, individuals who advocate for intercultural understanding and human rights in an increasingly global and interconnected world," Harvard said in a statement.
The 2018 Hutchins Center Honors

Ceremony: 10/11 at 4pm @Harvard. Free tickets available to Harvard ID holders via lottery – https://t.co/XOow5ohlbY

A limited number of free tickets will be made available to the public on 10/9 via the Harvard Box Office – https://t.co/UUHYwkItzo
pic.twitter.com/JT2XIAhheE

— Hutchins Center (@HutchinsCenter) September 20, 2018
"In the year of the 150th anniversary of his birth, W. E. B. Du Bois would be proud of the eight individuals being recognized at this year's Hutchins Center Honors," said center director, Henry Louis Gates Jr.
According to The Hill, Kaepernick will be joining other honorees such as Dave Chappelle and Barack Obama's presidential portrait artist, Kehinde Wiley.
Congrats to Kap and all of the honorees!
Liking this content? Check these out:
Colin Kaepernick Made Sure To Only Wear Black & Women Designers For His GQ Cover Shoot
In West Philly, Street Artist Transforms W.E.B. Du Bois' Words Into Visual Art Through Arabic Calligraphy
Harvard Will Have Four Amazing Black Women Leading Its Schools, A First For The University