#DrawingWhileBlack Is Back And Here Is Some Of The Artwork You Need To See
Because raw talent can't be placed in a box.
February 27, 2018 at 8:56 pm
Twitter has been undefeated as one of the most popular social media platforms that allows people to really evoke change and share like-minded experiences. Hashtags seem to be created for that reason and #drawingwhileblack is one of the greatest gifts that keep on giving.
The hashtag itself was actually created back in September 2017 by Annabelle Hayford (@sparklyfawn), a 19-year-old, a-gender artist studying animation and illustration at the Maryland Institute College of Art (MICA).
The hashtag, created to celebrate and appreciate Black artists, made a return to Twitter this weekend and we couldn't wait to share all the wonders that came along with it.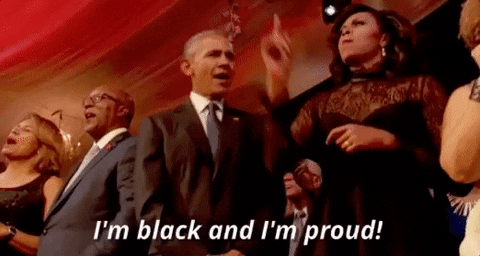 Louis brings a new appreciation to these popular childhood cartoons. Do you spot your favorite?
my name is Louis. i'm an all-over-the-place, multimedia artist & graphic designer. show me love!#drawingwhileblack#BlackHistoryMonth pic.twitter.com/NGyckmJIOW— Louis. (@louis_therapper) February 27, 2018
Njeri is giving us a strong yet beautiful depiction of girl power. This one makes me think of 702. Where my girls at?
Hi! My name is Njeri and I am a Kenyan-American illustrator and comic artist residing in Maryland!
Nice to meet ya!

website: https://t.co/OSeP3i8YfD
Instagram: @njerimk
Tumblr:@njerimk#drawingwhileblack pic.twitter.com/qTkutxh5tN— Njeri MK (@monkeystripes) February 27, 2018
Chrystin adds her own twist to dark fantasies and kooky storytelling. Her adaption of Alice in Wonderland is too dope!
Hey there! I'm Chrystin, a background painter at DreamWorks TV who loves dark fantasy and kooky storytelling! #drawingwhileblack https://t.co/o4ROdf3Yfz pic.twitter.com/RP8c6o1qur

— LadyG_ECCC DD3 (@ChrystinGarland) February 26, 2018
Bri uses nature as her canvas with these one-of-a-kind afro-centric cutouts.
Cut outs are my new favorite style to do #drawingwhileblack #bpeppersart #afroart pic.twitter.com/eAfJRxpVCy

— Natty B (@banana_peppers) September 15, 2017
Woofy just added color to her drawings last year and she's already a beast!
Hi, I'm Woofy a random doodler and color smudger.
I recently started drawing and usually stick to black and white, but this past year I opened myself up to the vast world of color!

This year I am dabbling into digital and emote work for Twitch streamers! #drawingwhileblack pic.twitter.com/fPlTXH9F8u— 🌹Your Valentine❤️ (@ItsWoofy) February 26, 2018
Anna, a drawing while black vet, is happy to see the hashtag is still around and contributed her beautiful original pieces.
I'm Anna! I'm an Afro-Latina Caribbean kid studying art in New York City and I'm so glad to see this hashtag making the rounds again! #drawingwhileblack pic.twitter.com/qembMn0vom— 🥀 anna (@polarbearrs) February 26, 2018
Annabelle, an illustration student, not only shared her work but expressed how grateful she was for a safe space like this.
Hey guys its Annabelle!(Abelle For short)I'm a MICA illustration student and organizer for #drawingwhileblack ! Thank you guys for supporting this hashtag and black kids like myself 💫

Tumblr/insta: sparklyfawn
Website:https://t.co/9spM6qpesL
Store: https://t.co/npK1HNcMlG pic.twitter.com/fUBmsNEPRV— Abelle ✨🦌 (@sparklyfawn) February 25, 2018
Hbab came through and gave us animated/artwork hair goals!
Hey my name is Hbab ,i do digital/traditional art ,here's some of my drawings hope u like it 🤗💖 #drawingwhileblack #BlackHistoryMonth2018 pic.twitter.com/d2pG1DJxoc— Hbab (@7bo0oz) February 25, 2018
Roby has dreams of becoming a game designer. Someone give sis a job ASAP!
Hi I'm Roby, I'm a Black/Korean artist, and I love ancient history, mythology, and designing characters! I hope to one day be a character designer for games 💝 #drawingwhileblack #visiblewomen #visiblenb pic.twitter.com/9fpB0xF5sl— Roby (@lilirenzu) February 25, 2018
Camilla is an illustration student that already has a comic in the works. Flourish!
Hi! Im Camilla I'm Trinidadian American 🇹🇹 and I love to tell stories with my art! MICA 2021 Illustration Major! I have a comic as well its called I Loathe Lucy and it's on Webtoon and Tapas #drawingwhileblack pic.twitter.com/DolSgD0N4L— Camilla Sucre (@Succreart) February 25, 2018
Brooklyn is another student in hopes of becoming a character designer. With sketches like these, the sky is the limit, sis!
Hey! I'm Brooklyn! Born and bred in Baltimore I'm a senior animation major at MICA hoping to be a character designer!! #drawingwhileblack

My links:https://t.co/xSDZFnv9Mehttps://t.co/NnoCTbUUR8https://t.co/vgcMYoHIWl pic.twitter.com/mub0DB4qmE— brooklyn 🍓 (@brooklynleeart) February 24, 2018
Bryce stepped in and is representing for the brothers. #blackboyjoy to the next level!


Glad to see this tag is back. Just tryna master as many mediums as i can! Never stop creating #DrawingWhileBlack pic.twitter.com/pujijAXUCs— Skillmonger (@Bryce_Cobbs) February 24, 2018
Laylie just scalped us bald with these exquisite sci-fi illustrations!
Hello world 🌟 I'm Laylie. I like drawing fantasy and sci-fi illustrations ✨#drawingwhileblack pic.twitter.com/OFBr1A7C3X— Laylie Frazier (@ukelaylie) February 25, 2018
It's so inspiring to see black creatives showcasing and uplifting each other. Make sure you click the hashtag and support these artists or at the very least purchase some of this beautiful artwork. You deserve and they most definitely deserve!