House Democrats Take First Steps Towards Impeaching President Donald Trump
Trump is accused of violating the Constitution.
November 15, 2017 at 10:20 pm
The "impeach Trump" hype train has been moving for some time now. This week, talk of impeachment ended and steps towards impeachment began.
Six Democratic members of the House of Representatives introduced five articles to impeach the president, accusing him of violating the Constitution, according to The Hill.
The representatives behind the articles are: Steve Cohen (D-TN), Luis Gutiérrez (D-IL), Al Green (D-TX), Marcia Fudge (D-OH), John Yarmuth (D-KY) and Adriano Espaillat (D-NY).
"Given the magnitude of the constitutional crisis, there's no reason for delay," Cohen said, adding according to NBC News, "We have taken this action because of great concerns for the country and our Constitution and our national security and our democracy."
What specifically do the representatives think Trump did wrong?
First, Trump is being accused of obstructing justice by firing former FBI Director James Comey, which lawmakers believe was done to hinder the Russian probe investigation.
Also, Trump is accused of violating the foreign emoluments clause for accepting gifts from foreign governments without the Congress' consent.
The representatives also say Trump violated the domestic emoluments clause prohibiting him from profiting from his office. Lastly, he has been accused of undermining two U.S. central institutions in a manner that threatens our democracy: the court and the free press.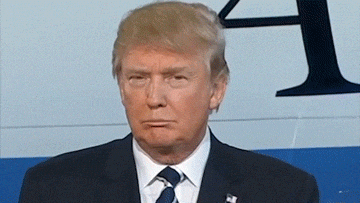 Representative Brad Sherman (D-CA), called for Trump's impeachment following the Comey firing, but he and may others who have called for impeachment, such as Representative Maxine Waters (D-CA) haven't signed on to the current effort.
However, Cohen said today that more lawmakers will join this concrete push for impeachment "immediately or soon thereafter."
The Republic National Committee (RNC) responded by calling this new venture a "baseless radical effort."
"House Democrats lack a positive message, and are completely unwilling to work across the aisle, so instead they've decided to support a baseless radical effort that the vast majority of Americans disagree with," RNC spokesman Michael Ahrens said.
Representative Steny Hoyer (D-MD), the minority whip, believes the article of impeachment have been served prematurely.
"Do we disagree with the policies? We do. But disagreeing with the policies is not enough to overturn an election, a free and fair election," Hoyer said shortly after Cohen's news conference. "There are a large number of Democrats that believe this president ought to be impeached, we have just a made a judgment that the facts aren't there to pursue that."
Cohen obviously disagrees, but doesn't hold any illusions of the matter going to a vote. "I don't expect the House Judiciary Committee, which is operated like a branch of the administration, to take up hearings," he said, according to CNN. Instead, he hopes to be granted briefings to outline the grievances contained in the articles.
Gutiérrez said that no matter what does or does not happen, he felt he had a moral obligation to speak out.
"I see a crime and I have a responsibility to dial 911 immediately. I don't call and try to reach my consensus with all my neighbors and all my friends and those whose opinion I might seek out," Gutiérrez said.
For his part, Cohen said he has no plans to stop or give up. "It's important that we not let the failure of the Republicans stop us from doing what is right."