A Tearful Oprah Tours Her Retrospective Exhibit At The National Museum of African American History and Culture
This is more than deserved, Auntie O.
Oprah Winfrey is a living legend, and now, the Smithsonian is honoring her as such.
Her reign as a media powerhouse, businesswoman and member of Hollywood's elite has spanned nearly four decades. In the same way, her work as both a journalist and activist has helped shape the narrative of network television. O has made history in more ways than one, and thanks to a new exhibit, visitors to the National Museum of African American History and Culture have the opportunity to view it all in one central location.
According to The Washington Post, the new exhibition "Watching Oprah: The Oprah Winfrey Show and American Culture" will open Friday, June 8, 2018, and run through June 2019. The exhibit will feature video clips, interview segments, movie costumes and personal photographs and journals to explore Winfrey's influences and how her work has helped shape American culture.
The showcase is divided into three segments. The first will take a look at Winfrey's childhood, early career and how the cultural shifts of the 1950s and '60s informed her worldview. The second section will look at the 25-year run of The Oprah Winfrey Show, the highest-rated talk show in history. The last segment will explore Winfrey's role as cultural influencer and tastemaker in the movies she's produced, the books she has promoted by way of her book club as well as her unparalleled philanthropy.
As you can imagine, the 64-year-old has donated her due share to the National Museum of African American History and Culture, which opened in September 2016. Despite being the museum's largest individual benefactor through her donation of $21 million, museum director Lonnie G. Bunch III says it is not the reason Winfrey is receiving this honor.
"We made sure there was a bright line, that this was done by the museum and museum scholars," he said. "The fundraising was not through Oprah's people."
Bunch also said he hopes the exhibition will encourage visitors to think about what Winfrey has represented over the years.
"There are so many issues, about women, power, media, body image," he said. "This should be a popular show because of the impact of this person, but it is also a show that allows us to think about what it means that a woman who doesn't fit the TV look could build a media empire and become an entrepreneur."
"What's interesting is the same way America thought about Walter Cronkite — you could trust Walter Cronkite and his opinion — they trust Oprah," Bunch said. "An African American woman becomes the person America turns to."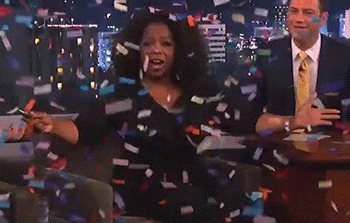 A tearful Oprah walked through the exhibit ahead of its opening in disbelief.
"How many people are alive who get exhibits?" Oprah asked her bestie Gayle King as they wandered through the exhibit together, CBS News reports.
King learned something new about her friend as they stopped in front of the diary entry Oprah wrote before her first national broadcast.
"Exactly eight hours before the national first show," Oprah wrote. "I keep wondering how my life will change. If it will change. What all this means. Why have I been so blessed? Maybe going national was to help me realize that I have an important work or that this work is important. I just know that I must be pressed to the work of the high calling."
"You wrote that the night before?" King asked surprised. "That's what you were thinking?"
When asked what she would have written, King answered, "Hope it works."
The exhibit opens on June 8; if you're lucky enough to be in D.C., check it out!