All sports fans are familiar with Stephen A. Smith, especially for his outspoken, polarizing nature. According to USA TODAY, the TV personality and commentator sat down with Snoop Dogg on the rapper's Double G News Network (GGN) to discuss an array of topics, one of which included weed because duh.
Toward the end of the show, Snoop asked Smith a series of rapid-fire questions and concluded the ultimate question: "ass or titties?"
Stephen A Smith on Snoop's show might've made my day 😂 pic.twitter.com/5iFJTXIfOH— Chocolate 🍫 Zeus ⚡️ (@TheRealGahri) June 12, 2018
Smith readily admitted he's a fan of the booty.
"I know I'm associated with Walt Disney, but everybody knows I'm a bottom feeder," Smith quipped, referring to his boss, ESPN's parent.
Oh???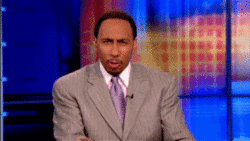 We're not sure this was something we absolutely needed to know, but more power to ya, Stephen.
You can check out the full interview below!