News
Tiffany Haddish Reveals She Wanted To Throw Hands At An Actress For Biting Beyoncé On The Face
Who in the world?
Photo Credit: Art Streiber
Tiffany Haddish just let another cat out of the bag about the party she and Beyoncé attended, and someone should probably be drafting up that non-disclosure right about now.
By now, most of us have heard the comedian's story of the night she met Queen Bey. The first time Haddish revealed they partied together she mentioned Beyoncé served as pacifist by way of selfie when the comedian told the "Hold Up" singer she was about to throw down with someone at the gathering.
She later divulged a separate incident in which an unnamed actress tried to flirt with Jay-Z at an after party for one of his concerts.
Like what you're reading?
Get more in your inbox.
In a new interview with GQ, Haddish couldn't sit on the former story any longer.
"There was this actress there," Haddish told the reporter. "that's just, like, doing the mostest...She bit Beyoncé in the face."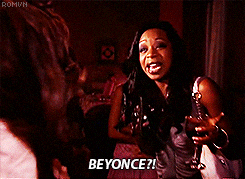 Bit Bey in the face? What?!
While she still refuses to name the actress, she says things were not pretty.
"So Beyoncé stormed away," Haddish says, "went up to Jay-Z, and was like, 'Jay! Come here! This bitch—' and snatched him. They went to the back of the room. I was like, 'What just happened?' And Beyoncé's friend walked up and was like, 'Can you believe this bitch just bit Beyoncé?' "
"And then Beyoncé and Jay-Z walked by me, and I tapped Beyoncé," she continued.
Haddish said she told Beyoncé, "I'm going to beat somebody ass at your party. I just want to let you know that." Beyoncé asked her to just have fun rather than fight for her.
Haddish then claimed a series of stand-offish moments transpired between her and said actress.
"Near the end of the party," Haddish continued, describing her final run-in with Mrs. Carter some time later, "Beyoncé's at the bar, so I said to Beyoncé, 'Did she really bite you?' She was like, 'Yeah.' I was like, 'She gonna get her ass beat tonight.' She was like, 'Tiffany, no. Don't do that. That bitch is on drugs. She not even drunk. The bitch is on drugs. She not like that all the time. Just chill.' "
This must have been where Bey swooped in with the ill "ussie."
GQ reached out to Bey's people to confirm the validity of this story; however Beyoncé's representative, Yvette Noel-Schure, didn't have the answers.
"I absolutely cannot comment on any of this, as I have no knowledge," she said.
We'll have to see how this one plays out. For now, I think we all want to know who in this world mustered up the nerve to put their teeth on the face of an icon.
---
Sponsored Content
8 Tools You Should Use To Help Achieve Your Personal Goals