Waka Flocka Flame Sets The Record Straight After Saying He's 'Not Black'
The rapper doubles down on his comments from "Sway in the Morning."
October 16, 2017 at 6:40 pm
People have been talking after Waka Flocka Flame's Sway in the Morning interview hit the airwaves. Most notably because the 31-year-old rapper let everyone know that he's not black.
Waka revealed to the hosts that his grandmothers once told him that their background was Native American as well as European. Therefore, he does not call himself African American.
"I'm not African American at all," Waka says around the 5-minute mark. "My folks is not from Africa. A lot of people in this room's folks ain't from Africa. Might be a couple, but people just don't understand. I asked my grandma, 'Yo grandma, what's your background?' She said 'Redfoot and Blacktail Indian.' I said, 'What?' She said, 'Yeah. My mother and my father, we 100 percent Indians.' I asked my other grandmother, and we got Cherokee in us, and European and Italian. A little Dominican."
"I'm uneducated. I'm confused," he later says. "But I'm damn sure not black. You're not gonna call me black."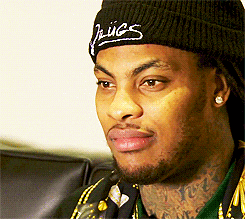 He also adds that he doesn't care if someone who is not black uses the n-word because the correct word is "Niger," as in the African country.
And that's just the beginning! You should check out the whole interview for yourself:
After facing a backlash for his comments, Waka took to Instagram to address what meant.
"Man, I be seeing y'all going crazy over the shit I was saying on Sway," he started. "Niggas be like, 'Yo, Waka said he not black.' You right. I'm not the black America call me. It's just hard for a nigga to be from the slums, the ghetto, the hood whatever niggas want to say we from. And you become this celebrity, you get to walk around the world. You get to travel around the world. You get to touch the people and you get to find out the truth."