Michael B. Jordan Eyed To Lead Reboot Of 'The Matrix'
Are you ready?
March 15, 2017 at 12:59 pm
Hollywood is going through that particular phase where they're trying to make everything old, new again. Sometimes it works, most times it a disaster, nonetheless they're on a mission to reboot your favorite films whether you asked for it or not.
The latest film to get the greenlight for a reboot is the 1999 action sci-fi film, The Matrix. The Hollywood Reporter reports that the studio is in the early stages of developing the reboot but they're in talks with screenwriter Zak Penn to pen a treatment on how the reboot may actually happen. There has yet to be any clarification if Lana and Lily Wachowski, sisters who wrote and directed the first Matrix film, will be involved in any way being that they're currently focused on their Netflix series Sense8.
Rumors surfaced years ago about a new trilogy of Matrix movies or even a TV series but everyone thought the original series still resonated with fans and is perfect as is. However, if they do go through with it, Warner Bros is looking to feature Michael B. Jordan as their potential leading man. Not sure if he will be the new Neo or a totally different character but could you image him doing the infamous Matrix move in a full-length coat? Or better yet his infamous Nike tech suit from Creed? Hmm, this reboot may be a good idea after all.
We'll be sure to keep you posted with details.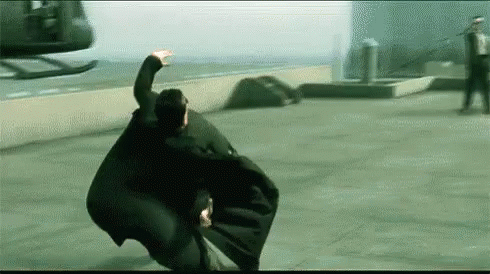 Photo: Tenor