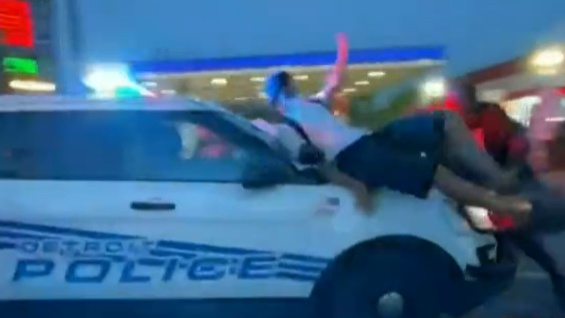 'We Went Flying Off': Detroit Cop Driving Police Vehicle Seen Ramming Into Crowd Of Protesters After They Surround Car
The police department said the officer was trying to escape.
Chaos broke out in Detroit on Sunday when a police car drove into a crowd of protesters, according to The Detroit News.
A video posted on social media shows the crowd first surrounding the police car, chanting "No justice, no peace." The officer then drove into the group, shoving several people aside. Some of the demonstrators ended up on the hood of the car before falling to the ground. A couple of demonstrators remained on the hood for a while longer as the unidentified officer drove away and people screamed.
A photographer at the scene posted the video on Twitter, saying between three and five people were injured.
Another witness said the officer drove into "10-12 protesters."