When Black Twitter comes together, you know magic is being made.
This past Saturday, black men got in formation with an ode to the fashionable accessory that is the headwrap. The item is already revered by women of color as a clutch alternative to the dreaded bad hair day and a chic way to spice up an outfit.
The fellas got in on the action, grabbing the first piece of cloth they could find and posting selfies as far as the fingers could scroll.
Why? Because of the lost hoodies!
@Mute_McNeil was the first to start, and then Instantly, the timeline chimed in in all their black beauty and excellence.
Photo: @Mute_McNeil
Peep these angles.
Fellas I'm doing this for every hoodie ive ever lost to a female, we gotta start taking they shit in 2017. pic.twitter.com/KisZOj2HCx

— Marquis. (@Mute_McNeil) March 19, 2017


Yasss.
Y'all looking real cute in these headwraps though.
😌♥ pic.twitter.com/KwjThkPjrb

— Kwikiriza (@afro__centrik) March 20, 2017


All sorts of creativity.
@TastefullyNasty gotta hit em with the headwrap/durag combo pic.twitter.com/c6pfp5zcci

— Michael (@DjSparx268) March 20, 2017


Solidarity became the move.
@Mute_McNeil we here pic.twitter.com/G3CM5Ft99U

— Vietnamese Jesus (@VietnameseJC) March 19, 2017


Hide yo' wraps, hide yo' fabric.
@Mute_McNeil Issa wrap pic.twitter.com/NIZfMqCUzt

— Jesse Muchai (@iKinuthia_) March 19, 2017


Then came the final boss of the headwrap game.
LMAO did bro use a bed sheet for this headwrap?! pic.twitter.com/Qqtx0d9Mnu

— Zazie Beetz (@AfroFrias) March 20, 2017


Seriously, though.
Sir, you dont perfect this kind of knot overnite, this don't got nuthin to do with a hoodie. Just post your tutorial and go https://t.co/lTK5aQ7lk4

— DarkSkintDostoyevsky (@daniecal) March 19, 2017
Call it revenge, call it style. But, whatever you do, call it genius.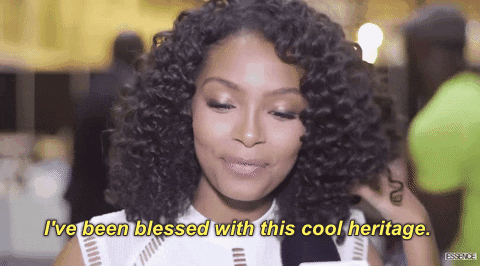 Photo: Essence