"But, did you witness the kiki that just happened on stage?"
asked a former colleague and fellow woman of color as we all walked away feeling empowered and enlightened after witnessing a live interview between media maven Oprah and
FLOTUS Michelle Obama
. A kiki, as defined by unofficial slang guide 
Urban Dictionary
, is a "party including good music and good friends, held for the express purpose of calming nerves, reducing anxiety and stress and generally fighting ennui. May involve locked doors, tea and salacious gossip." A kiki is the best description of what 5,000 powerful, diverse women from across the world witnessed onstage this week. You see FLOTUS donning a black maxi dress, soft summery curls and gold hoops, sitting across from Oprah, clad in a royal blue midi, slick ponytail and black-rimmed glasses. With the wisdom of grandmothers, aunties, and mothers that us women of color learn so much from, these two black women in power were here to provide nothing more than words of empowerment and wisdom like our grandmothers, some critical and crucial criticism like our mothers, and, well, some funny tea/joke inducing black-girl cackles here and there. Not to trivialize – or racialize – the important messages that FLOTUS and Oprah shared with each other and the audience, but their conversation reflected many of FLOTUS' key points throughout the conversation –
women must take the time to learn and love themselves, and in-turn authentically be themselves
. And, well, that's exactly what Michelle Obama does best. In between serious words of advice – every woman striving for self-improvement can take away lessons in life, career and love from this interview – FLOTUS and Oprah also managed to candidly have a girls gab fest while touching on Michelle's enthusiasm to be able to
finally
enjoy a shopping trip to Target, and her love for seeing her man, the POTUS, step off of Marine One and go to the Oval Office with "that walk;" each followed by a total BFF 'mmm, mmm, mmm!' endorsement. She also candidly told men to do better: Do the dishes, don't "babysit" your kids, be a conscious, better employer. "Just be better."
*Adds new BFF girl crush to growing list.*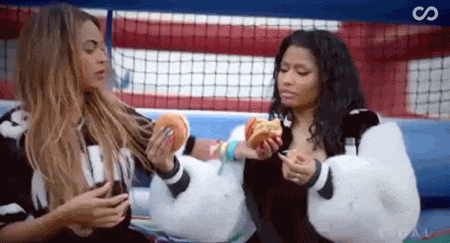 Photo: Giphy
Here are the top five gems that FLOTUS dropped on us June 14:
1. Know and love yourself.
"Our first job in life as women is to get to know ourselves. We spend our time pleasing, satisfying and looking out to the world to define who we are."
2. Own and protect your time.
"My first job is to make sure they would be whole and normal and cared for in the midst of all this craziness. And then I started to understand if I was going to protect them, I had to protect myself and I had to protect my time. If you don't prioritize yourself, you fall lower on your list and your kids fall lower on your list."
3. Look at life in phases.
"These are just phases, but there is more to come. Life is hard, but life is long."
4. The best revenge is success and good work.
"Wake up every morning and be the best you that you can be, and that tends to shut [haters] up."
5. Do things you care about. It only makes you more committed. 
"People can smell inauthenticity. I want people to know me, Michelle Robinson Obama. I have to do things I authentically care about. If I have a belief about a cause, my excitement will be conveyed to the people I am trying to reach."
Here's the full video. Enjoy!
---