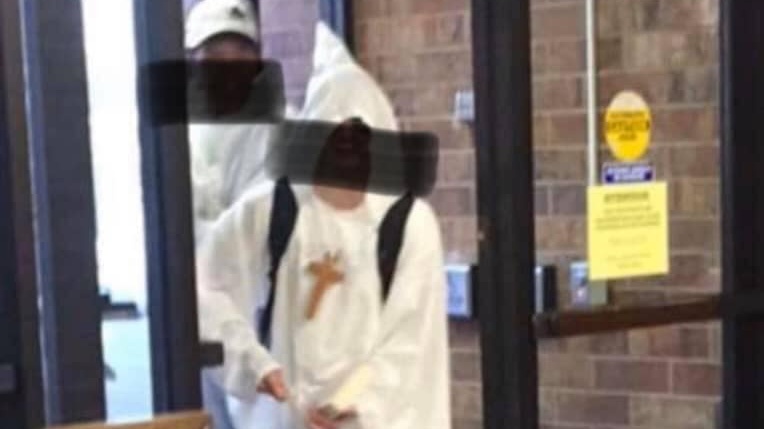 Two White Wyoming Students Showed Up To School In An Iteration Of KKK Attire
"It seems to be a very poor decision," the school's superintendent said.
December 19, 2019 at 9:41 pm
Two students at a Wyoming high school decided to don KKK apparel to school on Wednesday.
The two students attend Riverton High School in Riverton, Wyoming. Both were wearing white robes, and one was seen wearing a white hood and carrying an American flag. One was also seen with a cross around his neck.
The disturbing images quickly circulated throughout social media, reports AP News.
"It seems to be a very poor decision," said Terry Snyder, the superintendent of Fremont County School District No. 25. "They did not have an understanding of the impact that would create but they do know."
Though some social media spectators suggested that the students may have been mislabeled, Snyder cast that theory aside.
"We have interpreted the attire to be offensive and to be inappropriate," Snyder said. "We understand there can be different interpretations, but through our investigation, we believe that it was offensive and inappropriate, and we have taken disciplinary action with the students involved."
Not only is it offensive, but it also goes against Riverton's dress code. Riverton's policy clearly states:
"Virtually all places of employment have some form of dress code, whether for professional or safety reasons. Studies show that schools that employ dress codes see an increase in learning and achievement as well as a decrease in discipline referrals. The general appearance of students should be of such a nature as not to attract undue attention or interfere with the instructional program."
The students reportedly didn't make any offensive remarks or repeat any racist doctrine to accompany their wardrobe.
The school district does not discuss disciplinary actions taken against students, so any punishment they may have faced has not been specified.
Riverton High School Principal John Griffith is slated to have a discussion with faculty on Thursday to decide the next course of action for the students.