News
10 Of The Blackest Moments From The 2018 Grammy Awards Show
We're still rooting for everyone black.
The 60th Annual Grammy Awards aired on Sunday night, recognizing some of the biggest and best artists in the music industry. With albums like DAMN., 4:44, CTRL and others getting Grammy nominations, there's no way we could make it through the night without some major black moments.
Like what you're reading?
Get more in your inbox.
And some of our favorites did not disappoint. From the red carpet to the actual ceremony, these are the blackest moments that we couldn't get enough of.
1. Kendrick Lamar's powerful opening performance
They couldn't have chosen a blacker opening for the Grammy Awards. Kendrick Lamar is not known for holding back or finishing a performance without making at least one white person completely uncomfortable. During his politically-charged performance, K.Dot "shot down" his many dancers and had the sound effects to boot.
To add even more to the performance, Dave Chappelle joined Kendrick on the stage to give some hilarious commentary. We're still trying to figure out why they felt U2 needed to be a part of this. We'll let you know when we find out. "Is this on cable? On CBS?" Chappelle said. "This brother's taking enormous chances." As expected the Internet couldn't get enough.
.@Rihanna photo💣 with @JohnLegend backstage at the 60th #GRAMMYs pic.twitter.com/s1mpfr5J8Q

— Recording Academy (@RecordingAcad) January 29, 2018
What's better than one chart-topping artist? Two. While John Legend attempted to take a photo backstage before the ceremony, he was surprised by Bad Gal RiRi making an epic and much appreciated appearance.
3. Cardi B on the red carpet
If Cardi B is making an appearance, we can always expect a super black moment...or two. The "Bodak Yellow" artist had a few moments on the red carpet before the Grammy Awards that were hilarious, because she can't help but be herself and we can't help but appreciate it. First of all, she showed up looking like an angel and then she kept it all the way real in an interview with E! News' Giuliana Rancic.
Cardi B showed up to the 2018 #GRAMMYs with "butterflies in [her] stomach and vagina" and gave one of the best red carpet interviews of all time. #ERedCarpet pic.twitter.com/VJlwO6xzwx

— E! News (@enews) January 29, 2018
4. Childish Gambino hitting that falsetto
Donald Glover, aka the only Donald we acknowledge, aka Childish Gambino hit all of the notes during his performance on Sunday night. The artist and comedian brought his acclaimed album Awaken, My Love to the Grammy with his performance of "Terrified" — reminding us all that his falsetto game is always on point.
5. Kendrick Yelling "Jay For President"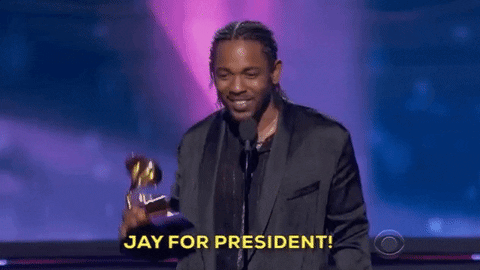 Photo: Giphy
We're with you on this one Kendrick.
7. SZA bringing her mother and grandmother to the Grammys with her.
Sza brought her Mother and Grandmother with her to the #GRAMMYs 😍 pic.twitter.com/HEVOGyai5u

— Black Girl Culture (@blkgirlculture) January 29, 2018
Showcasing three generations of black girl magic? Yes, we're here for it. Totally and completely.
9. When everyone was reminded that black people invented rock and roll.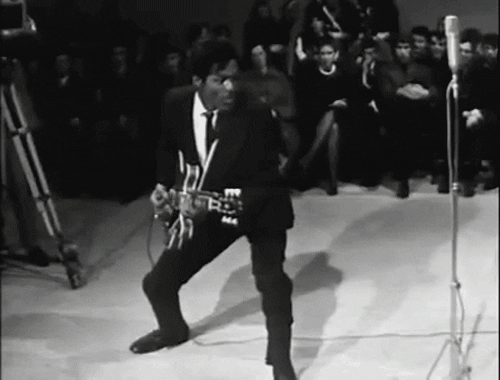 Photo: Giphy
Black women don't always do what we want to do, but we do what we have to do. SZA is an angel.