Since the announcement at the 2016 BET Awards, we've been anticipating The New Edition Story, BET's three-part miniseries chronicling the journey of the iconic boy band, New Edition. This week, about a half a year later, the miniseries debuted.
The series featured Algee Smith as Ralph Tresvant, Woody McClain as Bobby Brown, Bryshere Y. Gray as Michael Bivins, Elijah Kelley as Ricky Bell, Keith Powers as Ronnie DeVoe and Luke James as Johnny Gill. Additionally, in the first part of the series, as young versions of the members were featured with Jahi Di'Allo Winston as Young Ralph, Tyler Marcel Williams as Young Bobby, Dante Hoagland as Young Michael, Caleb McLaughlin as Young Ricky and Myles Truitt as Young Ronnie.
In detailing the best parts about this telling of New Edition's story, I talked to Algee Smith (Ralph) and Woody McClain (Bobby), as well as Myles Truitt (Young Ronnie) and Jahi Di'Allo Winston (Young Ralph) to give their insight on the miniseries and its impact.
So far, the miniseries has received what seems like universal acclaim from fans and critics alike. Some are even calling it the best work from BET during our time. I agree. When I told this to Algee Smith, he said, "That's what we've been hoping for, so that's good to hear."
Here are the 11 reasons why The New Edition Story was super lit:
1. The casting was spot-on.
EXCELLENT casting, BET! #NewEditionBET pic.twitter.com/xVzhBuI0Ad

— ♀ (@MakeupJunkie_AC) January 25, 2017 <
Like really spot-on…
Casting for #NewEditionBET was impeccably done! Congrats Fellas on the long deserved accolades! @NewEdition @NewEditionBET ????#Dalynncosmetics pic.twitter.com/O4Y9XL42fC

— Danielle DaLynn (@DanielleDaLynn) January 25, 2017
From the young cast to the adult cast, it could not have been more perfect. From physical resemblance to vocal similarities, you can tell that each role was cast with precision and the right guy got their part.
2. BET did it right.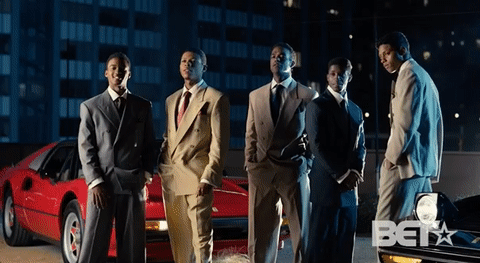 Photo: Giphy
This honestly felt like it could have been a theatrical release. It was really done perfectly. In order to reach this perfection, it required huge commitment and preparation from the young and adult casts.
"We did boot camp for 8 hours a day," said Smith, "We probably got like 30 minutes to an hour for lunch. We're pulling hamstrings in there, we got no AC, and when we try to go get some water, they're like 'What are you doing, what you need water for?' and I'm like….'I'm out of breath!'" He said that it also required them to study a lot. "We got this binder and flash drive full of material, old interviews, how they walk, how they talk, pretty much a New Edition bible to study."
According to McClain, the members of New Edition were there throughout for support. "We had the real guys there and the numbers to call them anytime if we needed insight on any scene," he said.
3. Young New Edition stole the show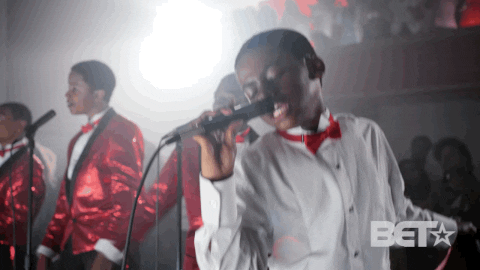 Photo: Giphy
Critics and fans have especially commended the performances of the younger cast. Myles Truitt, who played Young Ronnie, said he didn't expect this reception. "I didn't think they would be that popular. Ronnie DeVoe came in the group last and he really was laid back. However his dancing, style and swag was so dope I knew that he would be popular," he said.
"The younger kids, they motivated us to go harder. We were never lax because they put the pressure on us. They would go first, and then all the producers and all the moms would be looking at us like 'y'all ready?' We had to bring it," said McClain.
4. The actors from both the young and adult casts didn't lip-sync, they used their own vocals.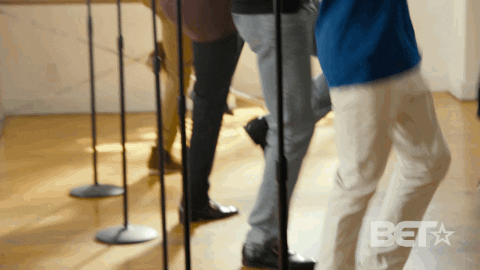 Photo: Giphy
In most biopics we've seen, it's most likely for the actors in the roles to lip-sync the vocals of the original artist. However, both the young and adult casts sang these classic New Edition tracks themselves. Smith says this all was the working of the series' producer Jesse Collins. Before even being cast in the roles, they had to sing in front of super-producers Jimmy Jam and Terry Lewis, as well as Babyface.
"He (Collins) wanted to make sure we got a chance to showcase our vocals," said Smith. "I'm in the studio here with some of the best music creators of all time. They've done everybody. Being able to actually sing the part and showcase what we can do is a major blessing."
For McClain, he says this part was the hardest. "I didn't grow up as a singer, but I can hold a tune. And I'm in the booth and I can see people like Luke James and Elijah Kelly – these are real singers. And they are just looking at me and when I'm going to sing, they are shaking their head 'no,' and I'm like 'they gotta get out the studio!'" he said while laughing.
"I love to sing and started singing before acting," said Truitt. "So all the high notes you heard in the background were mostly me. I enjoyed working with Babyface and learning from him in the studio. That was the highlight! I mean…it's Babyface!"
5. We got the raw truth.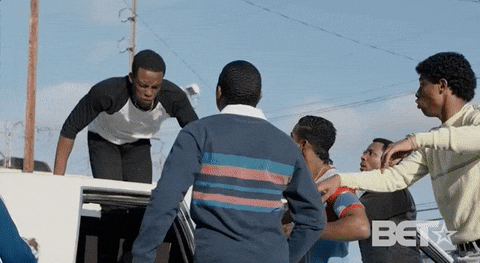 Photo: Giphy
Out of all the roles, I assume that the role of Bobby Brown may have been the hardest to tackle. "I felt honored they even considered me for this role, especially it being a big role to take, and it was my first job. I felt like God put this in my life for a reason," said McClain. "Bobby just wanted me to stay true to myself and don't try to overact. Just stay true to the scenes and the script. I think it came across really good," he said.
Out of the many wild situations during the three parts of the series, one of the most jaw-dropping scenes was a moment of what appeared to be an orgy between New Edition and Soul Train dancers. When I asked Smith and McClain their favorite scenes of the film, they were on the same wavelength. "Honestly, my favorite scene had to be….my favorite scene was the orgy scene," said McClain. "I could be nasty and say the beginning of night two (of the miniseries) when they came in and caught us with all the girls," Smith laughed as I noted how that part of the miniseries escalated so quickly. "It went quick as hell right?" he laughed and responded. On a more serious note, he said the performance scenes were his favorite parts, particularly "You're Not My Kind of Girl" and "If It Isn't Love."
6. We learned New Edition secrets that hardcore fans wouldn't even know.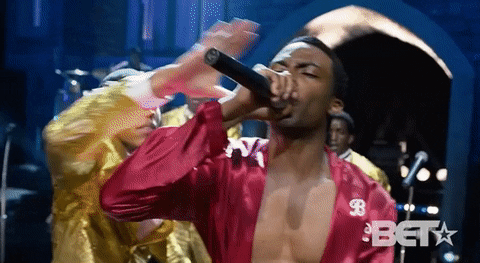 Photo: Giphy
Many of the even most die-hard New Edition fans don't even know about some of the situations that they got themselves into. "I think it's so important because people don't know,' said McClain. "We all know the music we know (songs like) 'Candy Girl' and 'Can You Stand the Rain,' but we don't know New Edition personally. Those guys didn't have social media back in the day for us to see what they are doing every day. Millennials, we have that. It's special to actually see what exactly these guys had to go through."
One key example of something many fans didn't know too much about was how Ralph was legitimately pegged to be the frontman of the group. Like we knew of course he sung the most of the lead, but he had a solo deal in the works before any of the rest? Young Ralph, Jahi Winston, says the scene when Ralph accepted the label offer but bargained to bring the other boys in was his favorite. "It was such an emotional experience for Ralph and hit so close to home for so many people who have had to struggle and care for their family. To portray that was really challenging but I felt like I was responsible for doing it right," he said.
7. We fully understand now why Chance is anti-label.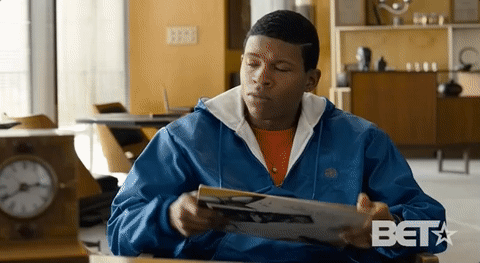 Photo: Giphy
Over the years, New Edition didn't find themselves in one, but multiple bad contracts with labels and management. Now we know why several years later, artists like Chance the Rapper are striving to remain independent. "(This is) putting light on the music industry, making sure the new generation handles their business right," said McClain.
8. Late '80s/early '90s style.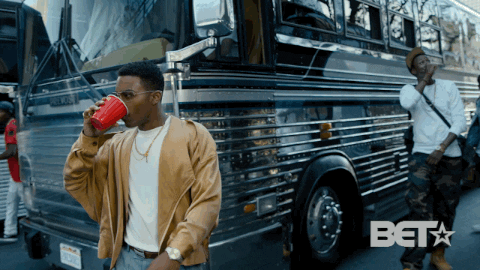 Photo: Giphy
We as millennials are obsessed with late '80s and '90s nostalgia and culture. This was evident in all the 'fits throughout this film. So, seeing this culture with songs like "Poison" in the backdrop was just great.
9. The miniseries was the literal embodiment of black brotherhood and #BlackBoyJoy.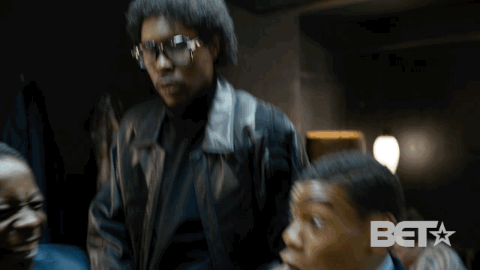 Photo: Giphy
Despite the numerous trials and tribulations we witnessed the six go through over the course of the series, their brotherhood would come out intact each time.
10. This bond traveled from on-screen to off-screen.
Photo: Bennett Raglin/BET
It was clear that the bond created while filming would spill over into real life. Both Smith and McClain described this as "amazing."
Smith said, "We all created this brotherhood. This is the first project I've been on that it's been like that. We talk in the group chat every day now. These are my real brothers. We hold each other accountable. We're running career ideas by each other, life ideas, just like things we go through on the every day like we talk about it, and that's rare to have. You don't really get those projects. We really created a bond."
The younger cast had the same experience. Truitt said, "I knew Tyler from our community theater group. We were cast together and (have been) friends for almost three years. It was easy to connect with Jahi, Dante and Caleb because they were so cool and we were together all the time. They have great personalities are very humble and down-to-earth. We had fun off-set too. We went bowling together, played PS4 and hung out at the mall. They became my brothers." Winston shared the same sentiments. "The cast was amazing. I've gained brothers, mentors, and life-long friends. Everybody was really cool even New Edition themselves. It was like a big family," he said.
There was also a bond between the young cast and the adult cast. "Even with the little ones, we have a separate group chat with them because they can't know everything we talk about in our group chat," Smith joked. "We are big brothers to them and we want to display that to the world. Like this is Black Boy Joy, like we are together and this is what it looks like," he said. "The older cast was [sic] like my older brothers. They gave me advice and encouragement. We also hung out and they helped me out a lot," said Truitt.
11. The world still has a thirst for New Edition.
Photo: Bennett Raglin/BET
With the warm reception and open arms that the world received The New Edition Story with, it's clear that this story needed to be told, and this was the perfect time.
"We just wanted to stress the fact that this isn't New Edition against each other, it's New Edition against the music industry and overcoming that, and then 30 years later, still standing strong co-producing the movie with each other through all the bulls**t that they went through," said Smith.
All in all, I can't wait it watch this again and again years down the line. Because you know it's gonna be airing all the time.
Great job, BET. You really outdid yourself.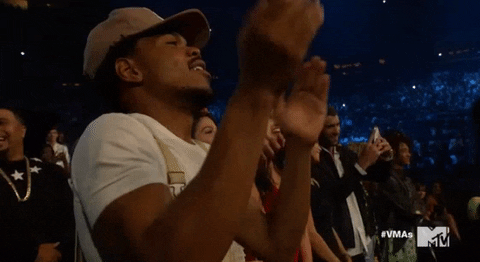 Photo: Giphy