16 Throwback Music Videos That Should've Been Short Films
Back in the day when music videos were worth watching over and over again.
Remember the days when we all raced home to watch music video premieres... Photo: Forrest Gump
...or, you could pass an entire summer binge-watching Video Soul?
Photo: Giphy
In between commercial breaks, you call your friends to discuss your fav videos. It was like live tweeting, but actually talking to people. What a concept.
The videos were so damn good. One minute, they had you in the living room jammin' like this: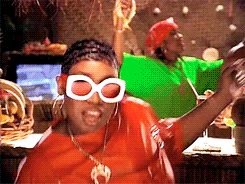 Photo: Tumblr
And the next...you're speechless.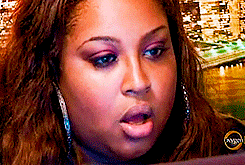 Photo: Bad Girls Club
There was an added level of artistry for performers; they were actually believable actors. In five minutes or less, these mini-movies told an incredible story, marrying music with impeccable visuals, captivating audiences everywhere. The plot twists, innovative graphics and cliffhangers made your head spin. Music video directors are magic.
Here are 16 videos from the past that could have easily worked as short films.
1. Tupac, "Brenda's Got a Baby"
When it was all said and done, you are struck with the realization that Brenda really did have a baby.
2. Aaron Hall, "I Miss You"
My feelings are still hurt by the ending of this video.
3. TLC, "Waterfalls"
In 1994, the average person was not tech savvy so seeing TLC morph into water was dope AF.
4. Craig David, "Seven Days"
How we all long for do-overs in life.
5. Brandy & Monica, "The Boy is Mine"
20 years later and we still don't know who won the song, or Mekhi Phifer.


6. Dru Hill, "Never Make a Promise"
When the video first came out, everyone said in perfect unison, "Look at Myra from Family Matters."


7. R. Kelly, "Down Low"
Fam, I recognize Kellz is problematic. I do. He was canceled long ago. But this is still a great video. Don't drag me.


8. Keith Sweat, "Twisted"
All you can say is "damn" at the end.

9. Usher, "Nice & Slow"
Because we all wanted to be Usher's damsel in distress in Paris.

10. Mariah Carey, "Honey"
Her life should be remembered for her carefree 90's video collection and not for the recent tragedies (re: the reality show. re: New Year's Eve re: Nick Cannon) in her life.


11. Bone Thugz-n-Harmony, "Crossroads"
I too miss my Uncle Charles, ya'll.

12. Toni Braxton, "Un-Break My Heart"
Were we hurt more by the death of her love interest, or the death of Tyson Beckford as her love interest?

13. Lost Boyz, "Renee"
A hood love story turned tragic.

14. Tupac, "I Ain't Mad At Ya"
This one is still very eerie to watch.

15. Michael Jackson, "Remember the Time"
Michael Jackson. Magic Johnson. Eddie Murphy. Iman. That dance break. John Singleton in the director's chair!


16. Michael Jackson, "Thriller"
The longest music video in life with the greatest theatrical quality of its time.

Let us know which videos were your favorite below in the comments!