Once again, we're nearing the end of a year where entirely too much went down.
As always, black women have continued to showcase the magic despite all attempts to stifle it. This year has been rough, but the magic that black women continue to exude is limitless, and quite frankly, it's hard to keep up. As a way to celebrate and recognize greatness, here are 23 of the most inspiring black girl magic moments that impacted culture in a significant way this year:
1. Lena Waithe earned a historic Emmy win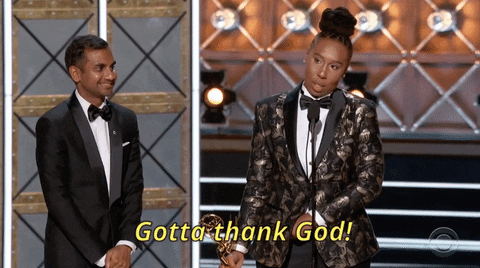 2017 was the first time that a black woman won an Emmy for comedy writing. Lena Waithe made history winning an Emmy as a co-writer for the "Thanksgiving" episode of the Netflix show Master of None with series co-creator and star, Aziz Ansari. The acclaimed episode models Waithe's own experience of coming out as a lesbian. If you haven't already seen the episode, it's a powerful one.
2. Beyonce announced she was having TWINS
"World stop...carry on!" - Beyoncé
And stopped is what it did. When Beyoncé made the announcement that she and Jay were expecting twins, the Internet flocked to the photo making it the most liked picture of 2017. So far 11.2 million people joined in the excitement. Sir and Rumi Carter are now here, and we're awaiting a full family photo including big sis Blue Ivy.
3. Maxine Waters went viral for reclaiming her time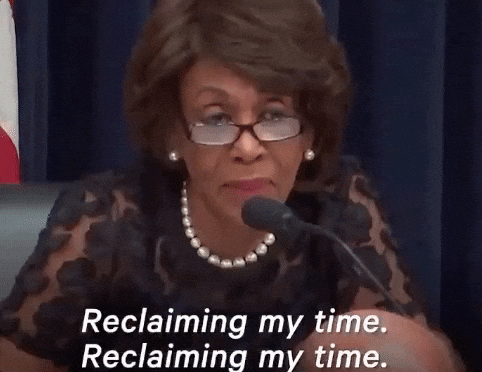 Maxine Waters set the mantra of 2017 when she told Treasury Secretary Steve Mnuchin that she would be reclaiming her time. He tried it by stalling his answer regarding President Trump's financial ties to Russian banks. Waters quickly shut it down letting everyone know when you're on her time, she has the right to reclaim it. The video of the verbal exchange has since gone viral because quite frankly, it's a mood, a vibe and a lifestyle.
4. Rihanna saw stellar success with the launch of Fenty Beauty
For years, black women have been asking beauty brands to include us, and Rihanna's Fenty Beauty — which debuted in September with 40 shades of foundation along with highlighters, concealers, lip gloss and makeup tools — did just that. The brand earned more than $72 million in media value in one month and has since expanded. She has the makeup world shook. Rightfully so.
5. Keisha Lance Bottoms was elected mayor of Atlanta
#KeepAtlantaMovingForward #LeaveNoOneBehind #UniteAtlanta pic.twitter.com/TGuP7QnlZd

— Keisha Lance Bottoms (@KeishaBottoms) December 6, 2017
Keisha Lance Bottoms won the race for Atlanta mayor on Dec. 5. Unfortunately, her opponent refused to lose gracefully and concede, demanding a recount. However, after a recount, results show that Bottoms won by a margin. While Bottoms is currently facing criticism for her priority to build up the police force in Atlanta, it was still an inspiring moment for black women in politics.
6. Vi Lyles became Charlotte's first Black female mayor
My grandfather is a 96 year old Charlotte native. He wasnt the allowed to vote until he was 44 years old when the Voting Rights Act passed. This year, he voted for my mom @ViLyles who became the 1st Black woman elected to the office of mayor of Charlotte. #MondayMotivation pic.twitter.com/TaCY84o1H3

— Aisha Alexander (@AishaThinker) December 4, 2017
Vi Lyles is a proud Charlotte native and the city's first black female mayor. The 66-year-old spent three decades in city hall as a budget official and as assistant city manager. She landed a 58 percent victory after being described as "one of the least political politicians."
"With this opportunity you've given me, you've proven that we are a city of opportunity and inclusiveness," Lyles told supporters at Park Expo after her victory. "You've proven that a woman whose father didn't graduate from high school can become this city's first female African American mayor."
7. Andrea Jenkins became the first openly transgender black woman elected to public office
More history being made tonight as Andrea Jenkins (@andreaforward8) wins her bid for Minneapolis City Council, becoming the first out Black trans woman elected to public office in America! That makes two victories for transgender candidates tonight! pic.twitter.com/UXolI1SOAE

— Chad Griffin (@ChadHGriffin) November 8, 2017
Andrea Jenkins made history as the first openly transgender black woman elected to public office in the United States. This is not to forget Althea Garrison, the first openly trans, state legislator although she was outed against her will. Jenkins was elected to Minneapolis City Council, winning 73 percent of the vote in the eighth ward.
"Transgender people have been here forever, and black transgender people have been here forever," Jenkins told The Washington Post after her election night win. "I'm really proud to have achieved that status, and I look forward to more trans people joining me in elected office, and all other kinds of leadership roles in our society."
8. Black women of Alabama got in formation to reject Roy Moore
To the black women of Alabama, we salute you. #BlackGirlMagic pic.twitter.com/ffiqYkA1fi

— Bucktown Tiger (@bucktowntiger) December 13, 2017
Black women in Alabama overwhelmingly — 97 percent to be exact — threw their support behind Doug Jones for the Senate. They saved Alabama from an alleged pedophile and racist. Black women always show up and show out to save ourselves, and somehow we save the world in the process. It would be nice if the rest of America took notes.
9. Tarana Burke's #MeToo movement landed her as Time's Person of the Year
Tarana Burke created the Me Too movement in 2006 to encourage young women to show solidarity with one another. It went viral this year after actor @milano_alyssa used the hashtag #MeToo. TIME recognized Burke by naming her one of the Silence Breakers, TIME's Person of the Year. pic.twitter.com/ya18tKH3VQ

— WE-Change (@WEChangeJA) December 9, 2017
Tarana Burke created the #MeToo movement in 1997, and its reintroduction into the mainstream by actress Alyssa Milano sparked a chain reaction. The group of women and men who latched onto the movement became known as the "Silence Breakers." Those silence breakers were voted TIME Magazine's Person of the Year 2017. Her role in the #MeToo movement has even landed the Harlem-based activist the well-deserved honor of dropping the shimmering Waterford Crystal ball in Times Square on New Year's Eve. It's only right a black woman lead us into 2018 as well.
10. Girl's Trip saw huge success at the box office
Girl's Trip was the first comedy of the year to hit the $100 million mark. It was also the only film that was written, produced, directed and starred black people to do so. People soon realized that if you give us the resources, we can deliver above and beyond. A film about black women having fun and living our best lives can prove to be a hit. There's no need to keep remaking Bridesmaids.
11.Tiffany Haddish became the first black comedienne to host SNL
The success of Girl's Trip helped to give Tiffany Haddish's career an amazing boost. With her comedic skills at the forefront, she soon landed a historic spot on Saturday Night Live, becoming the first black female comedian to host the show. You go girl.
12. Sloane Stephens won the U.S. Open
BEST. DAY. EVER. 🇺🇸🏆 pic.twitter.com/R8ARc09Qwb

— Sloane Stephens (@SloaneStephens) September 10, 2017
Stephens emerged as a tennis star after snatching the U.S. Open title. A true comeback kid, she was the lowest-ranked player to win the women's title at the U.S. Open in the Open era, which began in 1968.
"One day I'm going to, like, be able to show my kids that I won the U.S. Open," Stephens said with the trophy next to her. "Like how many people can say that? Not many, and they already engraved my name on the locker. Like, hello. This is awesome."
I mean, after all, the greatest tennis player in the world is a black woman. We'd love to see that torch someday passed to another amazingly magical black girl.
13. Maame Biney became the first black woman to make the U.S. Olympic speedskating team
Like I said, it's CRAZY AWESOME!!! 😱 Thank you EVERYONE EVERYWHERE for soooo much love ❤️ and support!! 🇺🇸🇬🇭 https://t.co/P1BMt0sUWr

— Maame Biney (@BineyMaame) December 18, 2017
Maame Biney made history in December by becoming the first black woman to make the U.S. Olympic Speedskating team. The 17-year-old Ghana native made it look easy by beating Olympians Lana Gehring, Jessica Kooreman and Katherine Reutter-Adamek during the short track trials.
14. ABC announced the first black Bachelorette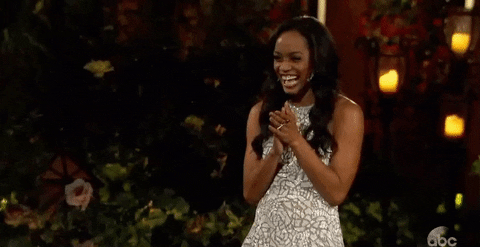 Love or hate the show, it's about time there was a black bachelorette. We want love too, and we deserve a chance to have a spot. Rachel Lindsay made history as the franchise's first black bachelorette as well as the oldest at age 31. Representation matters and hopefully, the franchise won't make this the last time an affluent, beautiful black woman is chosen.
15. Cardi B's overall come-up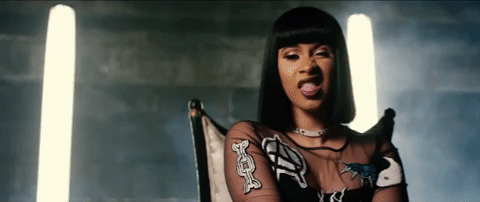 The "Bodak Yellow" rapper had a great year and an even greater come up. From topping the charts, to getting engaged, to earning Grammy nominations, the regular degular schmegular girl from the Bronx was an inspiration and reminded us all to keep pushing through.
16. Issa Rae changed the narrative of black television
Issa Rae hasn't even touched the surface of her glow to come but already, her hit show Insecure has been renewed for a third season. Even with all that success, she isn't stopping there. HBO recently picked up two new shows from the actor and writer. Him Or Her is described as "the single-camera half-hour chronicles the dating life of a bisexual black man and the distinctly different worlds and relationships he finds himself in." While the drama, Sweet Life is a coming of age tale of the well-heeled teens growing up" in the "Black Beverly Hills" neighborhood of Windsor Hills.
17. SZA flew to the top of the charts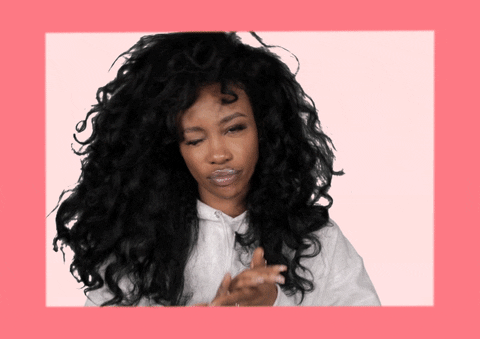 If you're a SZA fan, you know she isn't new to the game, but rather true to it. CTRL helped to give the singer and songwriter the looks that she deserves. Sis has been cold with the pen, OK. She has earned five Grammy nominations and a sold-out tour. This is only the beginning.
18. Viola Davis became the first black actor to win a "triple crown of acting"
In the acting world, a triple crown of acting consists of an Oscar, a Tony and an Emmy. Auntie Viola has all three, making her the first black actor to earn them. Her win for Best Supporting Actress in Fences at the 2017 Oscars was the final jewel in her crown. She won her Emmy in 2015 for her performance in TV's How To Get Away With Murder and her two Tonys for King Hedley II in 2001 and Fences in 2010.
Whoopi Goldberg has also won an Emmy, an Oscar and a Tony (as well as a Grammy – making her an 'EGOT' winner), however, neither her Emmy nor her Tony was won for acting.
Davis became the 23rd person in history to receive this honor.
19. Olympic Fencer Ibtihaj Muhammad launched her own Barbie (Hijab Included!)
Thank you @Mattel for announcing me as the newest member of the @Barbie #Shero family! I'm proud to know that little girls everywhere can now play with a Barbie who chooses to wear hijab! This is a childhood dream come true 😭💘 #shero pic.twitter.com/py7nbtb2KD

— Ibtihaj Muhammad (@IbtihajMuhammad) November 13, 2017
Ibtihaj Muhammad became the first American to compete in the Olympic games while wearing a hijab. Now, the Olympic fencer has her very own "Shero" Barbie doll. The doll is set to be released in 2018.
"I'm proud to know that little girls everywhere can now play with a Barbie who chooses to wear hijab! This is a childhood dream come true," Muhammad said.
The Shero line, which launched in 2015, includes dolls based on prominent women such as Olympic gymnast Gabby Douglas, model Ashley Graham, ballerina Misty Copeland, director Ava DuVernay and actress Zendaya. And according to CNN, there will be tall, petite and curvy versions of the doll.
20. Jesmyn Ward became the first woman to win two National Book Awards for fiction
Jesmyn Ward was named the 2017 National Book Award winner for her novel Sing, Unburied, Sing. Ward previously won the NBA for her 2011 novel Salvage the Bones. Her winning has shone a light on the restrictions that women, particularly women of color, face in the literary community.
"Throughout my career, when I have been rejected, there was sometimes subtext, and it was this: People will not read your work because these are not universal stories," she said. "I don't know whether some doorkeepers felt this way because I wrote about poor people or because I wrote about black people or because I wrote about Southerners … [But] you looked at me, at the people I love and write about, you looked at my poor, my black, my Southern children, women, and men — and you saw yourself. You saw your grief, your love, your losses, your regrets, your joy, your hope."
Ward is also a 2017 MacArthur Fellow, an obviously well-deserved honor.
21. Yara Shahidi scored a Grown-ish spinoff
time to spill some tea. #grownish pic.twitter.com/blzBy7Kjvw

— grown-ish (@grownish) November 30, 2017
When the hit sitcom Black-ish hit our television screens, many thought it was a breath of fresh air to see a well-to-do black family who didn't fit the stereotypical mold. Often being compared to The Cosby Show, we had an updated version of the modern black family in suburbia. The Black-ish writers never seemed afraid to "take it there," hitting on the heads of issues that black people continually face.
It's no surprise then, that when news broke of a new spinoff following eldest daughter Zoey Johnson (Yara Shahidi), people likened it to the second coming of A Different World. The highly anticipated show, Grown-ish, will premiere in January on Freeform. No doubt it will be refreshing to follow the college experience of black students once again. Not to mention 17-year-old Shahidi actually got into Harvard this year. Black girl magic all around.
22. The Nigerian bobsled team qualified as Olympians
Congrats to former @UHCougarTF star Seun Adigun and her Nigerian Bobsed teammates...first bobsled team from Africa, male or female, to qualify for the Winter Olympics. Fantastic! pic.twitter.com/AWgxoyQdvM

— Daniel Gotera (@DTGoteraKHOU) November 16, 2017
For the first time in Nigerian history, these women will be the first Nigerian athletes to ever compete in the Winter Olympics. Pilot Seun Adigun, and brakemen Ngozi Onwumere & Akuoma Omeoga are the first African team to ever qualify for the Winter Olympics in this particular event.
23. Angie Thomas's The Hate U Give became one of the most talked about novels this year, scoring a movie adaption
The novel The Hate U Give by Angie Thomas spent a remarkable 38 weeks at the top of The New York Times Bestseller list this year. It even made the list of TIME Magazine's Top 10 Young Adult Books 2017. Released in February, the young adult novel was inspired by the Black Lives Matter movement and the 2009 shooting of Oscar Grant. The book went on to receive massive praise.
The movie adaption began production and will feature Amandla Stenberg as its main character, 16-year-old Starr Carter. The star-studded cast also includes Regina Hall, Anthony Mackie, Common, Issa Rae and Russell Hornsby.
Black women have had a great year, and we know we're coming that much harder in 2018.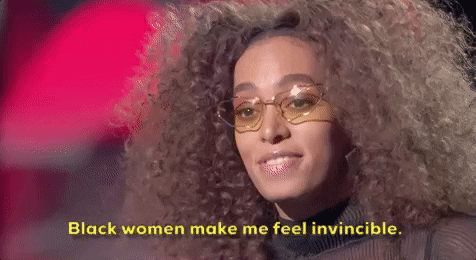 ---
What stories of #Blackgirlmagic inspired you this year? Let us know in the comments below.