The media has been all over the place since Jussie Smollett claimed he was the victim of a hate crime on January 29. Smollett claimed he was assaulted, called racist and anti-gay slurs, had bleach poured on him and a noose placed around his neck. Since then, his story slowly began to unravel with it appearing as if the attack was fabricated. Smollett turned himself in on Thursday morning and was charged with disorderly conduct related to filing a false police report. If convicted, he faces probation and up to three years in prison. His bond was set at $100K, according to ABC7.
The "Hurt People" singer was scolded by Chicago Police Superintendent Eddie Johnson, who revealed he gave the Osundairo brothers a $3500 check for the stunt.
"Empire actor Jussie Smollett took advantage of the pain and anger to promote his career," Johnson said. "I am left hanging my head and asking, 'Why? Why would anyone, especially an African-American man, use the symbolism of a noose to make false accusations? How could someone look at the hatred and suffering associated with that symbol and see an opportunity to manipulate that symbol to further his own public profile? How can an individual who has been embraced by the city of Chicago turn around and slap everyone in this city in the face by making these false claims?'"
Media leaks combined with around-the-clock social media coverage has made it difficult to discern the truth. Here are a few facts to know about the case:
1. He's facing felony charges.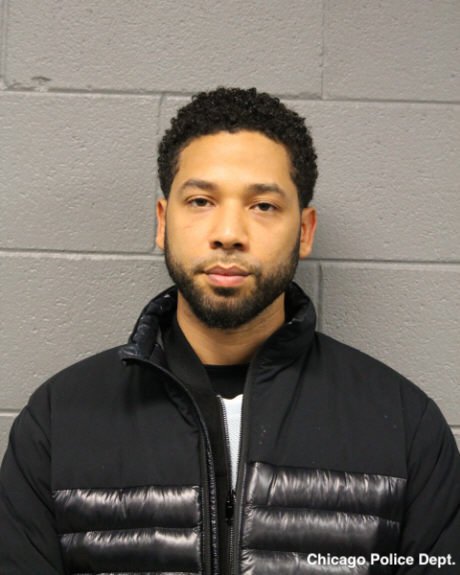 Jussie Smollett turned himself in on Thursday at 5 a.m., according to CBS Chicago. The Chicago Police Department charged him with disorderly conduct related to filing a false police report, a class 4 felony. If convicted, the actor could receive probation or up to a year in prison. Smollett is expected at a bond hearing on Thursday afternoon.
2. Smollett allegedly staged the attack because he was unhappy with his Empire salary.
Chicago Police Supt. Eddie Johnson claims Smollett came up with the hoax because "he was dissatisfied with his salary." Smollett was also responsible for the homophobic and racist letters he received on set, according to his accomplices, Ola and Abel Osundairo. The attack was planned after the notes failed to gain significant attention.
3. The hoax may stop his bag.
Empire sources told Variety that show executives are considering suspending Smollett from the show. A 20th Century Fox Television spokesperson refused to comment on the actor's status. Fox has been openly supportive of Smollett since the incident hit the media. Its last statement about Smollett was on Wednesday when rumors swirled about his character Jamal Lyon being written off, which the company shut down.
"Jussie Smollett continues to be a consummate professional on set and as we have previously stated, he is not being written out of the show," Fox said in a statement.
4. Smollett's legal team continues to profess his innocence.
The 36-year-old's lawyers stand by their client despite harsh criticism of his actions. They released a supportive statement urging the public to allow Smollett to defend himself properly, according to Deadline.
"Like any other citizen, Mr. Smollett enjoys the presumption of innocence, particularly when there has been an investigation like this one where information, both true and false, has been repeatedly leaked," Todd Pugh and Victor Henderson said.
"Given these circumstances, we intend to conduct a thorough investigation and to mount an aggressive defense."
5. Jussie's family has his back.
Despite the drama surrounding their brother, his siblings, Jocqui and Jurnee Smollett, have posted supportive messages for their brother on social media.
The family has stood behind the third of the six Smollett children every step of the investigation.
"Our family thanks everyone for their prayers and the huge amount of love he has received," the family said in a statement. "We are thankful to our village for your immense support during this trying time. We are so grateful that God saw him through this cowardly attack alive. Jussie is a warrior whose light cannot be dimmed."
Now, check these out:
Jussie Smollett Arrested For Allegedly Filing False Police Report
Jazmine Headley, Whose 1-Year-Old Was Yanked From Her Arms By NYPD, Receives Standing Ovation From NY City Council
Officer-Involved Killing Of 19-Year-Old Afro-Brazilian Pedro Gonzaga Sparks Comparisons To Murder Of Eric Garner