7 Unsung Black Heroes That Changed The World
It's time to recognize these heroes!
February 08, 2017 at 5:53 am
By now, I hope everyone has seen the critically acclaimed film Hidden Figures. If you haven't, close this screen, run to your nearest theater and get it done. That movie is amazing! When I left the showing, I was going through so many different emotions–happy, angry, disappointed, inspired, enlightened–at the same damn time. The one thing I couldn't wrap my brain around was, "Why are we just now learning about Katherine Johnson?" All those years we've learned about space and NASA, the two names you automatically heard was John Glenn and Neil Armstrong.
Photo: NASA
I'm very appreciative of Katherine's story being told and how it has already encouraged young women to pursue a career in STEM. Katherine is just one of many black heroes that have contributed to history that may have gotten late recognition or none at all. Although it's not a grand gesture like a Hollywood movie, we're here to make sure their legacies don't go unnoticed. Here are seven unsung black heroes that we must all be acquainted with moving forward.
Madam C.J. Walker, first African-American self-made millionaire
Photo: Getty Images
Madam C.J. Walker is the most popular on this list because I believe she still has yet to receive all the credit she deserves. In 1905, she created specialized black hair products for the various hair textures our people have. She was the first African-American self-made millionaire and is one of the most successful African-American business owners ever. She went on to open a factory and a beauty school in Pittsburgh that eventually became the Madame C.J. Walker Manufacturing Company in Indianapolis. The company not only made the cosmetics but trained sales beauticians. She traveled the world to promote her business and teach others her hair care methods. She passed from hypertension in May 1919. Since then, the Walker Building, which is now an arts center in Indianapolis, is a registered National Historic Landmark. In 1998, the USPS issued a stamp of her as part of its "Black Heritage" series.
Floyd Norman, Disney's first African-American Animator
Photo: NPR
If you love Disney movies such as 'Sleeping Beauty', 'The Jungle Book', 'Mulan', 'Toy Story 2' and 'Monsters Inc', then you are a fan of Mr. Norman's work. He was first employed as an inbetweener for Sleeping Beauty and went on to be the first African-American animator to remain on a long-term basis. In the 60s, he left Disney studio to start Vignette Films Incorporated with business partner Leo Sullivan. They were the first company to produce films on black history and even produced segments from Sesame Street and Hey, Hey, Hey It's Fat Albert. He is now 81 years old and still works at Disney without receiving pay or having a title. He would rather be there doing what he loves and receive nothing than "just sitting home on the porch". In 2016, "Floyd Norman: An Animated Life" documentary was released and that same year he was appointed to the education and outreach committee of the Academy of Motion Picture Arts and Sciences.
Margaret and Matilda Roumania Peters, Professional Tennis Supersisters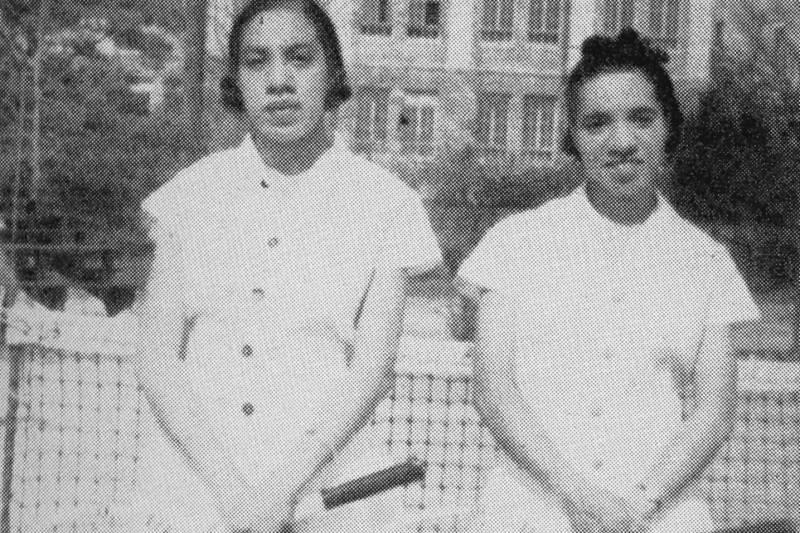 Photo: Associated Press
Serena and Venus Williams have been winning us over since they stepped foot on the tennis court, straight outta Compton with heads full of braids. Girls that have never considered tennis, begged and pleaded their parents to put them in lessons that next summer. As much as they're the GOATs of the tennis world, they weren't the first siblings to do it. Margaret and Matilda, known as "Pete and Re-Pete", wowed the world with their spectacular doubles play in the 1930s, '40s, and '50s under the ATA, a league formed to give African-Americans a chance to play competitive tennis at a national level. The ATA is the oldest black sports organization in the US and the Peters sister won 14 double championships, a record that still remains. Individually, Matilda won two ATA singles titles. In 2003, the USTA, an organization that denied African-American a chance to compete during the Peters' sisters career, honored the duo with an achievement award during the Fed Cup quarterfinals in DC. They were also inducted into the USTA's Mid-Atlantic Section Hall of Fame in 2003 and the Black Tennis Hall of Fame in 2012. Sadly, Matilda died in 2003 and Margaret the following year. Their legacy lives on.
Sherman "Jocko" Maxwell, first African-American sports broadcaster
Photo: NY Times
Today, sports broadcasters get just as much notoriety as the professional players by being featured in their own commercials and even video games. This generation's favorite sports broadcaster, Stuart Scott, leaves a legacy behind. Another great broadcaster that has left a legacy behind is the OG Sherman "Jocko" Maxwell. Maxwell began his broadcasting career in 1929 at the age of 22 on WNJR, a radio station in Newark, doing a five-minute weekly sports report. In the early '30s, he hosted a sports report called, "Runs, Hits, and Errors" on WRNY, a station based in New Jersey with a studio in Manhattan. His reports expanded to interviews with Negro league baseball players. He went on to join WWRL, where his "Five Star Sports Final" program became very popular due to interviews with pro athletes such as Hank Greenberg (baseball), Sid Luckman (football), and Dixie Walker (baseball). By 1942, he was the station's sports director. In the 1950's and '60s, he wrote historical articles about the Negro Leagues, his work single-handedly keeping the players' names and records alive for generations to come. Despite his many accomplishments and contributions, he was rarely paid by the radio stations he worked for during his career. In 1994, He was inducted into the Newark Athletic Hall of Fame and achieved his lifelong dream of visiting the National Baseball Hall of Fame in 2001 at 93 years old. He passed away at 100 years old in July 2008 from pneumonia.
Hattie McDaniel, first African-American to win an Academy Award
Photo: Getty Images
We are just a few weeks away from the Oscars and this year it is jam-packed with diversity. Movies such as Hidden Figures, Fences, and Moonlight are all films with African-Americans leads nominated in the Best Picture category. This year, Viola Davis is the first black actress to receive 3 nominations. What a turnaround since last year's #OscarSoWhite controversy. In 1940, Hattie McDaniel won her first Academy Award for Best Supporting Actress, laying the path for many to follow. Throughout her career, she appeared in over 300 films but only received screen credits for approximately 80 of them. Besides acting, she was a professional singer-songwriter, comedian, and radio performer. She was the first black woman to sing on the radio in the US. It was the controversy between her, the media and Walter White, then president of the NAACP, that shifted her change in the traditional stereotypical roles to her career in radio.
For CBS radio's The Beulah Show, she took another starring role as a maid but this time she used her platform to break racial stereotypes rather than reinforce them. Unexpectedly, she suffered a heart attack when The Beulah Show started filming the television version. McDaniel was diagnosed with breast cancer in 1952, eventually passing away later that year.
In 1975, Hattie McDaniel was inducted into the Black Filmmakers Hall of Fame and in 2006 became the first black Oscar winner honored with a USPS stamp. She has two stars on the Hollywood Walk of Fame, one at 6933 Hollywood Blvd for her contributions to radio and another at 1719 Vine Street for her acting in motion pictures.
Philip Emeagwali, Father of the Internet
Photo: Philip Emeagwali
Nigerian-born Dr. Philip Emeagwali first entered the limelight in 1989 when he won the Gordon Bell Prize for his work with massively parallel computers. He used his mathematical and computer expertise to develop methods for extracting more petroleum from oil fields. He programmed the Connection Machine to compute a world record 3.1 billion calculations per second using 65, 536 processors to simulate oil reservoirs. His methods with the use of data generated by massively parallel computers would go on to be used not just in internet applications by help with weather forecasting and the study of global warming. This record-breaking experiment meant that there was a practical and inexpensive way to use machines to speak to people all over the world. He went on to win more than 100 prizes for his achievements and Apple computers have used his microprocessor technology in some of their Mac models. So the next time you go viral, bless up Dr. Emeagwali one time.
Bessie Coleman, first female pilot of African-American and Native-American descent
Photo: The Kids Should See This
Honestly, what can't women do? It was just last year that an all-female flight crew landed a plane in Saudi Arabia, a country where women can't even drive. The year before that, an entire black female flight crew made an appearance on Ethiopian Airlines. I'm sure many are proud just like they were when Bessie Coleman took her first solo flight at just 24. She was the first African-American woman to hold a pilot license and the first American woman to hold an international pilot license. She was also a celebrated stunt pilot, performing figure eights, loops and dives in aviation shows earning her the nickname "Queen Bessie". Unable to learn aviation lessons here in the states, she traveled to Paris, France where she learned to fly in a Nieuport 82 biplane. In September 1921, she sailed from Paris to New York, instantly becoming a media sensation when she returned to the United States. On April 30, 1926, Bessie Coleman was trying her latest daredevil stunt when her plane took an unexpectedly dip and spin while in the air. The plane threw Coleman from 2,000 ft in the air, dying instantly when she hit the ground. She was just 34 years old. Coleman never got the chance to live out her dreams of establishing a school for young black aviators but she was greatly honored for decades to come. There are roads at O'Hare International Airport in Chicago, Oakland International Airport in Oakland and Tampa International Airport in Florida named in her owner. Several Bessie Coleman Scholarship Awards has been established for high school seniors planning careers in aviation. In 2006, she was inducted into the National Aviation Hall of Fame and in 2012, a bronze plaque was installed on the front doors of Paxon School for Advanced Studies, located on the airfield where her fatal flight took off.
This list is just scratching the surface of the many unsung black heroes that have contributed to the world. Share some of your favorites with us below!