News
'As A Mother' Of Two Black Children, Seeing The 'Black Panther' Cast At The Oscars Made Sandra Bullock Cry
Bullock: "I'm so grateful to Marvel because about five years ago, my son asked me if there were any brown Legos."
Photo Credit: Photo: YouTube / Access Hollywood
Oscar winner Sandra Bullock chatted with Access Hollywood on the 90th Academy Awards red carpet about the strong and supportive female cast of the upcoming heist film Ocean's 8 (which, is also starring Rihanna!), but one particular part of the interview that stuck out was when she touched on the effect Black Panther had on herself as well as her sons.
According to the Huffington Post, Bullock has two black children, Louis Bardo Bullock and Laila Bullock, each Louisiana natives she adopted in 2010 and 2015, respectively.
As we have previously noted, Black Panther served as a beacon for representation, reiterating why such images matter to children who yearn to see positive stories starring people who look like them. Bullock touched on how significant that was for her and her children, which came to a head once she saw the Black Panther cast on the Oscars red carpet.
Like what you're reading?
Get more in your inbox.
"I started to cry backstage when I was telling [the movie's cast] how much the film meant to me as a woman, but how much it meant to me as a mother," she noted. "That says a lot about where we are in this world and in the world of superheroes."
Bullock continued with her praise for Marvel, citing a time when Louis asked her whether there were any Legos that looked like him.
"I'm so grateful to Marvel because about five years ago, my son asked me if there were any brown Legos," Bullock said. "And I said, 'Yes, there are,' and I got a Sharpie and I turned Spider-Man brown, I turned the Legos brown, and I don't have to turn them brown anymore."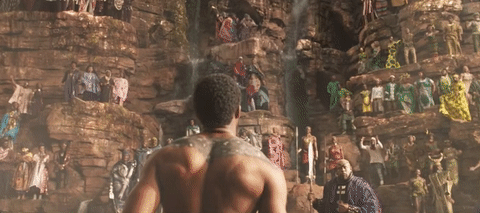 Due some violent scenes in the film, Bullock feels the children are too young to see the film at this time, but the actress couldn't help but note the sheer impact of the film's existence.
"I bought her swag before it even came on. She runs around in the 'Black Panther' mask. Which is scary when she comes out of the dark," she said.
You can check out the full interview with Sandra Bullock below:
---
Sponsored Content
7 Ways To Execute Your Dreams