In a '90s kind of world, we were glad we had our girls … from Living Single! The iconic comedy series — now available on Hulu — has been ingrained in our pop culture lexicon so hard, even its opening is memorable.
Fans of the show will never forget the silhouette of that energetic dancer working it as the credits rolled on by with the names of the cast members. Well, if you don't know, now you know: that dancer is none other than Leslie "Big Lez" Segar. Big Lez has a rich history working with music legends, such as Mary J. Blige.
Buzzfeed recently featured a Big Lez profile twenty years after Living Single's final broadcast, catching up with what the dancer's been up to since the series ended.
"When I recorded Living Single, I was a spry 24-year-old. It was shot by Otis Sallid, who had worked with Spike Lee, and he asked me to shoot this to whet their appetite," she said. "Neither one of us had the job when we shot it, but they loved it, kept it, and now it is TV history."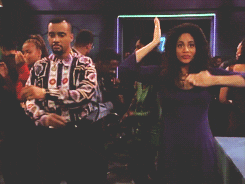 Don't think that Big Lez has slowed down because she is still about that dance and fitness life. And she looks amazing!
Get into her Instagram pics:
Currently, Big Lez is a choreographer living in Los Angeles. Big Lez forever!