When Haitian Bridge Alliance Co-Founder, Guerline Jozef, arrived in Tijuana, Mexico, on June 30 to assist black migrants at the U.S.-Mexico border, she encountered a scene she could only describe as "heartbreaking."
Haitian Bridge Alliance, also known as the "The Bridge," is a San Diego based coalition of organizations and community activists, who have come together to serve Haitian and black immigrant communities in the borderlands, California, and beyond. Though board members are in Los Angeles, Orange, and San Diego counties, they are also represented across the United States.
"While our current work is focused more [on the] migrant crisis [at] the U.S.-Mexico borderlands, immigration detention, and Temporary Protected Status, our long-term vision is to expand the visibility and reach of the Haitian and other communities in California, and to assist wherever we are needed," Jozef said.
The Bridge provides on the ground assistance to the estimated 19,000 black migrants currently in Mexico. The organization rotates between shelters, servicing 300 to 400 families each trip; providing medical, legal support, and facilitating Know Your Rights workshops. Volunteers also make donations such as hygiene kits, diapers, baby wipes, along with food staples such as rice, beans, and oils.
Jozef, Martine Jean, Jay Lamothe, and other organizers, came together in early 2016 and founded Haitian Bridge Alliance when they received a call about a steady stream of Haitian migrants at the border, en route to San Diego. Jozef recalled being surprised by this news since Miami, Florida, is a more common point of entry. The group of migrants arrived to no organizational assistance, no legal support, no language or cultural understanding by their hosts.
Organizers soon learned the 12 young men and women they met, aged 12 to 22 years old, survived the devastating 2010 earthquake in Haiti. The 7.0 magnitude earthquake struck the Caribbean country in January 2010 — which resulted in the deaths of an estimated 300,000 people, left four million without homes, and displaced hundreds of thousands more.
To this day, the country continues to recover from the total devastation of this natural disaster, compounded with historical injustice and political exploit. Even more, many migrants in the first wave were former participants in a humanitarian program in Brazil, which allowed them to live and work in the South American country. However, in the wake of the 2016 Summer Olympics, political shifts, and economic downturns, some Haitians were no longer allowed to stay in Brazil.
With no other options, they made the dangerous 7,000-mile journey on foot, across seven countries, through thick rainforests, ravenous rivers, and steep mountains. This coupled with little but the hope of better futures. Within their first week, The Bridge assisted 40 migrants and by the end of the month, about 400. Jozef and The Bridge recognized there was an urgent need to "answer the needs of our people."
In addition to the critical resources Haitian Bridge Alliance provides, their presence on the ground also creates an opportunity for migrants to bear witness to their experiences, traveling to the border and about life at the migrant camps. One little boy shared with Jozef a harrowing tale about how his father saved him from drowning after he fell into a river. Later, he saw another boy succumb to the same fate, however, he "did not make it."
In another account, a mother told Jozef about the neglect and lack of basic needs at the camp. Her young toddler developed a fever after they had been forced to sit in the rain for three days. As she cried for help, she told Jozef, their suffering was often met with mocking.
Their uncountable testimonies are significant because they highlight various black migrant experiences in what is a human rights crisis at the border.
Currently, the majority of migrants at the U.S.- Mexico border are seeking refuge from political, economic, and social instability — deeply rooted in a long history of colonialism, imperialism, and corporate profiteering in the developing world. This, driven by many western nations. Additionally, rapid climate change has begun to accelerate migration in vulnerable areas.
Many migrants and the general public alike, are unaware of the risks that come with embarking on the journey to U.S. Jozef estimates approximately 20 to 30 percent of people die on the journey. Many others show signs of distress upon arrival. Migrants also do not often anticipate the growing hostile political climate for refugees and asylum seekers in the U.S. and Mexico.
Most significantly, though making an asylum claim remains legal, they are also unaware they could face long stretches of detention at any point while their claim is processed. Additionally, LGBTQ+ black migrants are often denied asylum because they lack proper documentation to prove their case. Jozef states with the lengthening and increasingly complicated immigration process, it is more likely most will stay in Mexico. In this scenario, The Bridge also helps raise funds to assist in tuition costs and some have graduated from engineering, medical, and pharmaceutical schools.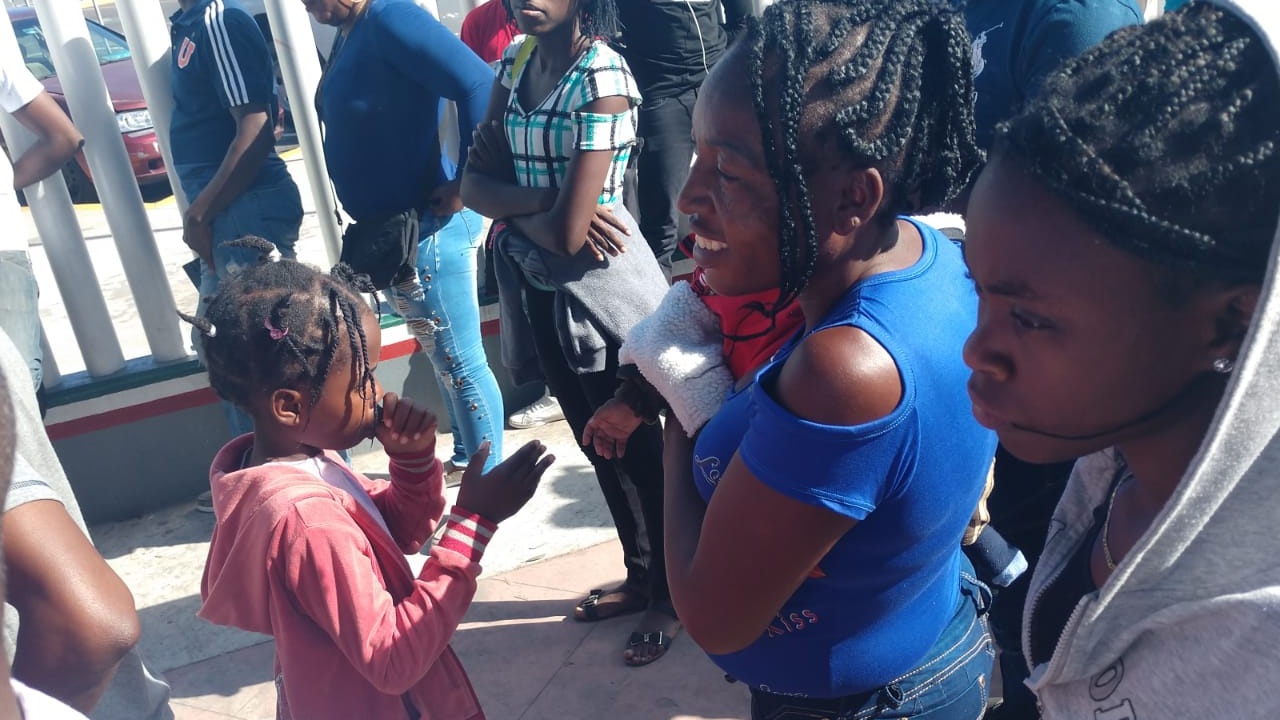 Since their initial work began three years ago, Jozef says not much has changed as it relates to black migrants. Despite the growing numbers at the U.S.-Mexico border, there continues to be little attention made to this fact, and their narratives are largely excluded from the story of migration. As it relates to demographics, Jozef noted many people in the earliest groups were young men; however, it is now a mixed population with family units comprising the latest wave. Additionally, Cameroonian, Congolese, Eritrean, and Ethiopian migrants are also making the journey to Mexico.
In all, the biggest change, said Jozef, is that Haitian Bridge Alliance is on the ground. They recently established an office in Tijuana and are also actively building a coalition of black-led organizations to support the needs of all — but especially black migrants. They work with activists within black migrant communities and organizations, including Black Alliance for Just Immigration, UndocuBlack Network, HabeshaDream, Black LGBTQIA Migrant Project, and allies on the ground in Mexico, such as Al Otro Lado.
"Our goal is to develop a self-sufficient community of black immigrants in California and beyond," Jozef said. Haitian Bridge Alliance, along with their assembly of advocates, welcomes donations and volunteers. Jozef encourages anyone interested in providing support to this cause to sponsor education costs through The Bridge, visit asylum seekers in detention, and to advocate loudly. This, she noted, is an open call for unity, justice, freedom, and liberation.