On an unseasonably warm late October afternoon, Elisabeth Betts is just getting started on coursework at what's becoming one of her favorite spots on Northwestern's campus in Evanston, IL. It is the first week that she's able to study at the Black House, a facility on campus designed to support Black students in a space where they can be themselves.
The Black House, which was reopened for the first time in two years during a rededication ceremony on Homecoming weekend, is one of the most historic and symbolic physical spaces of Black culture at the university. Originally built in the Fall of 1968, the Black House was erected after a group of student activists occupied the Bursar's Office in May of that year to protest against the treatment and marginalization of Black students on campus.
After a 38-hour sit-in, leaders from the student-activists (known collectively as the B100) and the university's administration came to a resolution around a list of demands that included developing advisory boards aimed at growing Black student recruitment, improving equitable housing options, and creating the Department of African American Studies and a Black student union now referred to as the Black House. Since its creation, the space has operated as a sanctuary for Black students, allowing them to fellowship in a supportive environment.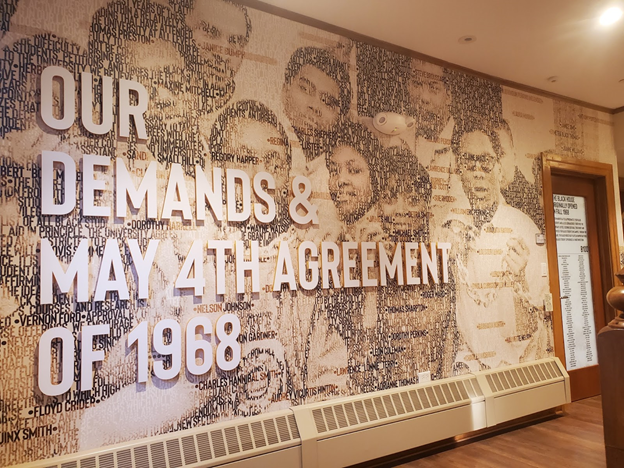 The Black House features tributes and exhibits to Black cultural achievements throughout history.
Betts, a sophomore from Bowie, Maryland, said it's refreshing and reassuring to know that there's a place on campus that prioritizes the Black experience. It's a place where she can meet with peers to work on projects or find a quiet place to gather her thoughts between classes. "I really like this space and being able to just come here and see people that I know," she said. "I'll talk about it with my friends and we feel like we're in 'Dear White People' or something."
When the Black House closed for renovations in June 2019, Black students complained that without access to the space they felt a loss of community, according to the student-led newspaper The Daily Northwestern. Betts told the paper that she felt she didn't get to experience campus life as she would have liked during her freshman year due to The Black House closure. She said she felt " left out at times because there's a lot of things that upperclassmen say used to happen in the Black House that we didn't get to experience."
When it celebrated its reopening on Oct. 15, current students and proud alumni alike returned to the space for the long-awaited rededication ceremony. Renowned journalist and lauded Sun-Times columnist Maudlyne Ihejirika, an '87 Medill alumna, remarked that she was "moved" and "overwhelmed" by the renovations made to the Victorian-style house. The newly remodeled facility has been decked out with a new floor plan, furniture, and gender-inclusive bathrooms, per a school release.
Although she says the university has much more work to do to reach true racial reconciliation, Iherjika commended the efforts of student groups and organizations like the Northwestern Black Alumni Association (NUBA) for collaborating with the administration to implement lasting change. "NUBA has been fervently working with the school and [past] President Morten Shapiro on the issues that have been raised by Black students in the last year and a half, particularly in the wake of George Floyd's murder and the racial reckoning that is currently gripping America," she said.
The former president of the National Association of Black Journalists-Chicago Chapter noted that brave students of color have historically been driven to take action as agents of change in their college communities. What the B100 fought against in the '60s is a nearly identical struggle to that of students at Howard University, a historically Black college.
For more than three weeks, students at Howard have occupied the Blackburn Center after complaining to the school about poor student housing and living conditions, according to Axios.
The students have four key demands, which are the permanent reinstatement of the student, alumni and faculty affiliate positions that are being phased out from the school's board of trustees, a meeting with faculty to address housing concerns, immunity for protesters in terms of any legal, or academic action, and a in-person town hall with President Wayne A.I. Frederick and other school officials.
Frederick has since met with students and has agreed to schedule some time to discuss improving housing options. However, the student activists said they are not relenting until their demands are met, The Washington Post reports.
"The moment we leave, we lose leverage," freshman student Autumn Hester said. "We're staying put, no matter what he says."
—
DeMario Phipps-Smith is a community-centered journalist from the west side of Chicago. He's an avid sports fan and believes Justin Fields will lead the Bears to the promised land. Currently, he is a graduate student at Northwestern University's Medill School, specializing in Media Innovation and Content Strategy.