My New York Liberty is currently down 0-2 to the Las Vegas Aces in this year's WNBA finals. It has been said many times over the last couple of days that no WNBA team has ever come back from this deficit. I'll hope against hope. But prior to this shellacking, this would be one of the most highly anticipated WNBA finals match-ups in history. Both teams are viewed as super teams in league circles.
The Aces being defending champs, already walk into the finals with a championship swagger. They know without a doubt, what it takes to win on this level. They are also coached by Becky Hammon, who is a Naismith Basketball Hall of Famer. Not to mention, there's the battle-tested basketball IQ of one Candace Parker. She's currently sidelined with an injury. But with a 2-0 lead in a best-of-five series, it seems this may not have much impact on the outcome of the series.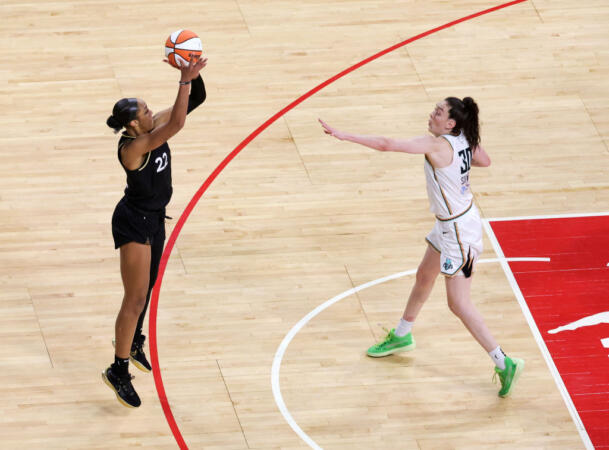 The Liberty constructed this team last offseason, and they were busy as all hell. Sabrina Ionescu, already an all-star was gifted the current WNBA MVP Breanna Stewart, as well as Courtney Vandersloot and Jonquel Jones. Many felt that with a lineup like this, the Liberty and the Aces were always on a crash course. So this year's WNBA finals is truly apropos.
Aside from the novelty of the super team, these teams can ball. And although we haven't seen the best of the New York Liberty in this series thus far, all throughout this season, we have seen exciting play from them. As a matter of fact, in the realm of individual performances, the WNBA saw some of its highest single-game point totals in its history. The Aces own finals MVP, A'ja Wilson even scored 53 this past season.
With amazing play from its star players, the WNBA is really building on the momentum it has been getting in the last couple of seasons. According to the WNBA, viewership has increased 27 percent since last season. In my opinion, the WNBA is beginning to benefit from its stars' personalities. Players like A'ja Wilson, Candace Parker and Chiney Ogwumike help make audiences more familiar with the league at large. It's been a great asset to the league having their active players do NBA analysis on TV during the NBA season. I also find that the ladies of the WNBA have also embraced documenting their fashion choices during the season. We now see players and their fits, as they walk into the arena for game time just as their male counterparts.
Coupling these players year-round on our screens, with the high level of play we have witnessed over the last couple of seasons, I think can only result in increased viewership. I for one, am happy to see it. The WNBA is 27 years old, and there are players that are playing who are older than the league. So progress can take some time. But as I like to say, slow motion is better than no motion. And the WNBA as of late, has been pushing the tempo.
Go Liberty?!