No one can deny that rapper and creator Saweetie is certified icy.
The social media mogul has over 14 million followers on her channels and is well on her way to building a legacy that will stick around for years to come. But even as her star rises and smashes through barriers, the Bay Area native stays true to her roots.
And that drive and authenticity is paying off. Most recently, Saweetie landed her own meal at McDonald's, making her the first female celebrity to front the wildly popular campaign.
"It was just a dream come true!" she says. "I used to beg my mom to bring me to McDonald's every day. So the fact that I'm on the packaging, in their messaging, on the front of the building — it's like, 'Wow! I can't believe it's me!'"
Behind the accolades and honors, Saweetie is putting in major work — and has been for years. But if she makes it look easy, that's because she's a pro. And even though she's had to face some pretty major hurdles over the years, the "Tap In" rapper stays grinding.
She started writing music at the early age of 13 and carried that love with her through her college days. Even on the come up, during what she calls her "Car Rap Days" — when she was recording in her car to avoid expensive studio time — she had faith she was destined for success.
After the release of 2017's "Icy Girl," things took off fast. Cut to today, when Saweetie has her fans hanging off every rhyme and hypebeasts watching her set trends. Fans worldwide tune in to watch her unique food remixes go viral on social media.
Which is why this latest collaboration with McDonald's couldn't be more perfect.
We spoke with the multi-hyphenate as she took over a Black woman-owned McDonald's in Lynwood, CA to celebrate The Saweetie Meal's release and learn more about what's behind the woman who's running the scene right now.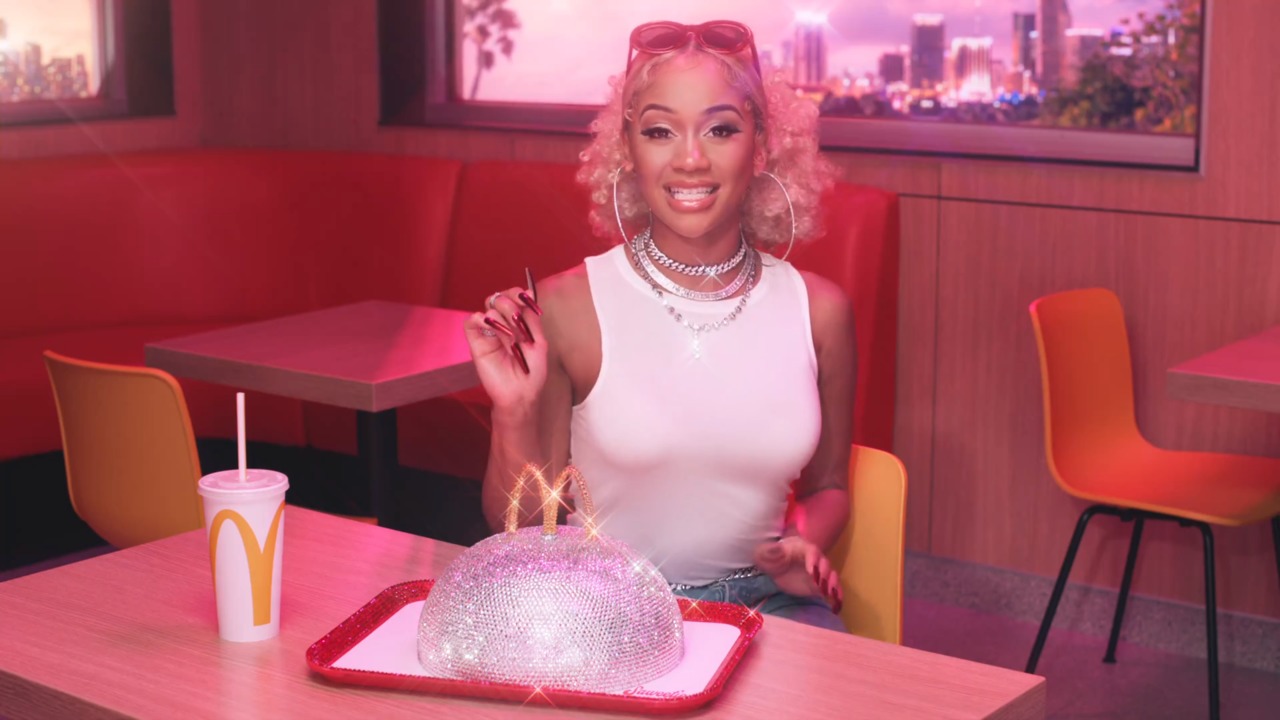 Blavity: What does it mean to you to be the first female celebrity honored with your own meal at McDonald's, The Saweetie Meal?
Saweetie: It makes me feel like I'm innovating. It makes me feel like I've accomplished something great. It just has been such a pleasure and an honor to be a part of the campaign.
Blavity: You've shared many of your "courageous concoctions" with your fans. Now, with this McDonald's meal, you'll get to share your refined palette with the world. What are you most excited for the ICY Gang to experience?
Saweetie: I felt like McDonald's was such a great collaborative partner. From the packaging, the decoration, we collaborated on everything. But I think the most fun part about the meal is the Saweetie 'N Sour sauce. The fact that they changed one of their most famous sauces and put my name on it. It's just such an honor.
Blavity: You are certified ICY when it comes to brand collaborations. As a female artist, what are the most important considerations for you when taking on new partnerships and brand relationships?
Saweetie: I think for any artist, male or female, it's important to always collaborate with a brand you believe in. Because when it's time to shoot the campaign, you have to love what you're doing or eating or wearing. So any time you see my name behind a brand, know that I love that brand. And you know, the consumers are smart, they know when you're faking it. I felt like my fans felt like this is the most authentic partnership so far because I love food. I love food more than I love clothes.
"But I've always been overly ambitious. And you can't tell me "No," because I will find a way to make you say "Yes."
Blavity: Your brand is all about female empowerment. What is the best advice you've received from the female figures in your life? What advice would you pass on to other young women looking to build their brands and secure the bag?
Saweetie: Well, my biggest advice comes from my grandmother, and that is just to pray. It sounds so simple, but it really helps. So I listen to a lot of gospel music and I pray a lot. Also, having a team is really important. I wouldn't be here without a team. My team is thorough. They're organized and they believe in the vision. So I think having a team is really important.
Blavity: Living in the celebrity light can be filled with drama, scandal and tons of criticism. How do you stay focused on your goals of becoming a global mogul?
Saweetie: I think that once I realized my purpose, I stayed focused on that. I'm not just here to look good. I'm not just here to get money. I'm not just here to be famous. I'm here with a purpose, and my purpose is to inspire. When I was a little girl, and people would come in to do career fairs, no one looked like me, so I didn't want to do what they did. My job now is to show little girls that look like me that whatever they want to do, they can do too. A lot of people told me I wouldn't make it or that, you know, "You're just dreaming." But I've always been overly ambitious. And you can't tell me "No," because I will find a way to make you say "Yes."
Blavity: What legacy do you hope to build?
Saweetie: I mean, one of my favorite lines is "Boss up and get your costs up." The legacy that I'm trying to build is based on that. I mean "boss up" like accountability, growth, team building and "get your cost up" — know what your value is. Don't take anything less. I feel like as Black and brown people — not just women — sometimes we're offered the lower, the smaller, the shorter end of the stick, even when people who don't look like us are getting bigger deals. So I always say to fight for what you believe in. And if someone is not giving it to you, then somebody else will respect you and they will pay you for what your true value is.
Even as Saweetie is making the most of this moment, she says some of her sweetest memories have come straight from her fans. She recalls when a fan told her that she ended a 12-year toxic relationship thanks to one of Saweetie's songs. "I love just hearing all these inspirational stories about people bettering their lives," she says. Having even a small part of that change is what building a legacy is all about.
One thing is clear: this Icy Girl isn't going anywhere.
The editorial is brought to you in partnership with McDonald's.