A Chat With Karyn Parsons On Sweet Blackberry's Mission To Expose Kids To Lesser-Known Black History
The Fresh Prince alum is expanding her black history animated series and is now raising funds to feature the first black woman pilot, Bessie Coleman.
Black history is as essential to American history as its white-dominated components. Oftentimes, our history's recounting is usually assigned to our designated celebration month in February. While we should certainly celebrate our history and the leaders that brought us to where we are today, there shouldn't be any limits placed on when we can learn about it. Further, there shouldn't be any limits placed on who we should learn about. While these figures are certainly important, there is certainly an extensive list beyond Martin Luther King, Jr. and Rosa Parks.
This is where the lovely Karyn Parsons comes in. With her non-profit organization Sweet Blackberry, it is Karyn's mission to highlight lesser known African-Americans who have made significant contributions to this country, and to showcase them to children everywhere. With a series of animated short films exhibiting notable figures such as Janet Collins, the first black prima ballerina, Sweet Blackberry is giving a much-needed space to the quiet storms of black history. Continuing with the journey, Sweet Blackberry is now raising funds via Kickstarter to produce its new animated short, highlighting the first black female pilot Bessie Coleman.
We sat down with Karyn to chat about how Sweet Blackberry came to be, the voice-over talent that her projects have accumulated, her advice to little black kids looking for a representation of themselves in media, the strength and impact of her village and even what she thought about Hilary Banks as president.
Blavity: Hi Karyn, thanks for joining us! We're super excited to chat with you about your dope new project! So, let's kick it off: Tell us more about Sweet Blackberry and its background!
Karyn Parsons: A long time ago, my mother was a librarian. And she worked in the Black Resource Center—she headed the department—and she came across stories in black history that I had never heard. One day she told me this story about this man named Henry "Box" Brown, an enslaved man who had a box built and shipped himself from Virginia to Pennsylvania. Once the box was opened on the other side, he was a free man. And I just thought that story was so incredible and unbelievable. I told all of my friends about it and they had never heard about it either. I thought, we should all know about this story, it's like a fairy tale. So, I wanted to create this story for kids—and stories like it—about a man who told himself, "I'm going to find a way to change this." That story, was the impetus.
Additionally, I wanted to create something that didn't make parents feel bad for plopping their kids down in front of the TV—something that was entertaining and educational. In this series, what are usually presented as obstacles are shown as opportunities. If we can plant these seeds on how African-Americans have done such great things and have become the fabric of this country, we can essentially change how all children view race.
B: I love that! Telling stories that are lesser-known. In that same vein, your next installment is Bessie Coleman, who I actually have a background in. I learned about her in elementary school and became obsessed with her. Even learning about her at that time is very rare as she is still a lesser-known individual than, say someone like, MLK.
KP: Yes! I'm so excited that little girls will get to look to her like "Whoa! A black woman pilot!" I read up on Bessie and as time went on, loved and appreciated her more and found that there just isn't enough of her out there. I actually portrayed Bessie in a stage play reading in which Bessie Coleman would come to a woman in her dreams, and that was my first introduction to her as an adult. This was post Fresh Prince days, and I truly fell in love with her spirit. To be living in Texas in 1921-1922 and decide as both a black person and a woman—facing discrimination from both angles—that she wanted to become a pilot. That she wanted to just do it. When faced with your own challenges, you can look to people like her and ask, "What would Bessie do?"
B: Absolutely! I see the animated series is streaming on Netflix now. As far as this next installment, what is your ultimate goal in terms of reach? Who do you most want to see this?
KP: While this is definitely geared toward very young kids—roughly four to seven year olds—in that it's a picture book come to life, what I've come to find is that parents are sitting and watching with their smaller kids because they are also learning and are intrigued. And that's really exciting to me! Additionally, when I went to schools, the content wasn't limited to younger kids, but extended as far as 8th grade. I went to one particular school and I screened the films from pre-K all the way to 8th grade and their questions could not be more different from age group to age group. The outreach has been largely facilitated by strong word-of-mouth and I would like to make a more deliberate outreach for further expansion, such as in other countries, of which has already begun. I believe we are on the right track, but I would love it if we were actually in the curriculum.
B: That's great! I feel that your content is so accessible, providing that "edutainment" feel.
KP: Yes!! We all know fairy tales like the back of our hand, right? How come we can't know Bessie Coleman the same way? I just want this to be super engaging. I hated history as a kid because it was presented to me as so dry and serious. But think about how much you loved School House Rock! You didn't think about the fact you were learning, you were singing along! I still to this day sing along to my multiplication tables!
B: I love it! Let's talk about the Kickstarter for the Bessie Coleman installment itself. These perks, though! From Hamilton tickets to Fresh Prince alum signing merch. Can you tell us a bit on how these perks came about and how you gained interest for your project for others to sponsor and jump onboard this movement?
KP: Honestly, Tatiana Ali is on the board of Sweet Blackberry. She is such a brilliant person—and I always thought that—but every year she is more incredible than the last. I've also been fortunate that the Fresh Prince cast and I have been so tight. I am able to reach out to them and ask if they can help and they are always happy to do it. They are all so supportive of Sweet Blackberry.
B: So good! There's truly a village surrounding this effort. In that same vein, I see you've accumulated such great voice-over talent on the series from Queen Latifah to Chris Rock. How did those people join the project?
KP: Yes, that's that village you talked about! Queen Latifah came from Will [Smith] early on who hit her up like, "Dana, would you like to do this" and she was like, "Yes, that would be great, I would love to!" and she came onboard and knocked it out incredibly. Alfre Woodard was actually the first one to come on board. I was writing the project and Alfre's voice was actually the one to come to my head halfway through writing it. And it would not leave; I just heard her voice. So, I had to call her. I worked with her many years ago on a miniseries, and I reached out to her and she said, "Yes!" She is so incredible. As an actress, yes, but if you can believe she's even more so as a woman. And Chris Rock—as you know, he did an episode of Fresh Prince—I actually reached out to him for the project on Facebook! He of course had such a busy schedule, and I'm like, yes we will work around it! I knew he had daughters and we were doing the story of the first black prima ballerina Janet Collins who had been operating in a white space and was faced with the crushing revelations of being rejected. But she kept going and ended up being the first African-American regular to perform at the Metropolitan Opera, before Marian Anderson. So, seeing what Chris did with Good Hair and having daughters, I knew he would understand the significance of telling Janet Collins' story, and he did! Or the significance of Misty Copeland jumping on to contribute to one of the perks as a fellow dancer who, of course, knew about her and says, "I would not be here if not for her." That's the beauty of Sweet Blackberry because not too many people know about Janet who paved the way for people like Misty, who we all know. I want to keep those stories alive.
B: Yes!! You see these images on social media with little girls posing exactly like Misty and it melts my heart! So, of course it's important for them to know the figures who paved the way. As someone who is providing a platform for those stories to be told, if you had one thing to say to black children, especially to inspire them, what would you say?
KP: You're capable of so much more than you think you are. And I want to be careful how I word this, especially to younger children. Our country has a history, and we're doing our part to try to heal from things that have happened in the past. And sometimes we don't see our stories of black people as accomplishments, but they're there! Even beyond Sweet Blackberry, there are so many children's books out there so I would say, reach for them! For every one story you come across, there are hundreds and hundreds more. You can look at these people who came before and know that you can do it. You can do whatever you want.
B: So, I have to ask this! I'm sure you've seen the "Hilary Banks for President" meme campaigns. If she were real—I mean, she is real to ME—and actually became the first black woman or woman president, would she be featured in the Sweet Blackberry series?
KP: Oh, definitely!! I'm sure her story would be very interesting as she wouldn't be someone who has to go through as many obstacles, but she would be so strong-headed like, "I just want to go do it!" Can you imagine the bills she would sign into existence?! And everything would revolve around fashion! She'd be like, "Forget about being the first lady or first man; it's all about me!"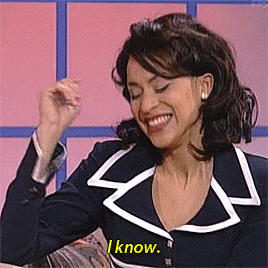 B: Thank you so much Karyn for joining us! Tell the folks where they can find Sweet Blackberry and how they could contribute to the crowdfunding campaign!
KP: Thank you! You can go to sweetblackberry.org and we have the Kickstarter link right when you open the page, or you could go to kickstarter.com/gold and we're on the front page there as well. If you like what you see, I encourage you to please donate whatever you can! We have 30 days to reach our goal of $50,000, or we don't keep any of it. Please tell your friends and spread the word on social media—we're on Facebook and Twitter! We are a non-profit organization, but we all get richer by learning these stories, so whatever you can do to help, I greatly appreciate it.
This interview has been edited and condensed.