News
Even Michelle Obama Had To Tell 'Queen' Beyoncé How Shook She Was By 'Homecoming'
"Constantly raising the bar for us all and doing it flawlessly," she said.
Photo Credit: Getty Images
Like the rest of us, Michelle Obama loves her some Beyoncé.
Like what you're reading?
Get more in your inbox.
The former first lady posted a video to congratulate Beyoncé on her documentary.
"Hey queen!" Obama began. "Girl you have done it again. Constantly raising the bar for us all and doing it flawlessly."
The forever first lady was forthcoming with her adoration of the "Déjà Vu" singer.
So proud of my girl! The Queen has done it again. @Beyonce, thank you for always living your truth. #Homecoming pic.twitter.com/NlNkKIwqN6

— Michelle Obama (@MichelleObama) April 18, 2019
"I'd say I'm surprised, but I know who you are. I've seen it up close and personal," she said. "Girl, you make me so proud and I love you."
She also praised Yoncé for how she incorporated Black culture into her film.
"I also love that your new Netflix film. Homecoming is informed by the Black leaders, thinkers and poets who've paved the way for folks like us."
Obama ended the video with poignant advice for her friend.
"I love that you're using this film to inspire the next generation of history makers and record breakers who'll run the world in the years ahead," she said. "So to you my dear friend I just want to say, keep telling the truth. Because you can do it in a way that no one else can."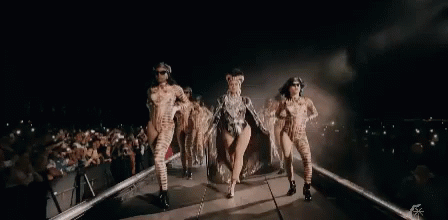 This video comes a day after Time published an essay Beyoncé wrote about Obama.
"I'm honored to know such a brilliant Black woman who's spoken about the sacrifice it takes to balance her passions while remaining a supportive partner and mother and now a best-selling author with Becoming," Beyoncé wrote. "She has continued to open herself up, even if it meant being criticized. She has continued to be a portrait of grace."
We love their love for each other!