News
Free Screenings of 'Hidden Figures' Are Coming to a Theater Near You
The movie has already grossed over $130 million.
Photo Credit: Photo: 21st Century Fox
If you haven't found the time to check out the box office smash that is Hidden Figures, you'd better get in formation. The production giant behind the film is hosting a deal that is way too great to pass up.
Like what you're reading?
Get more in your inbox.
Photo: GIPHY
21st Century Fox is teaming up with AMC Theatres to hold free screenings of the film throughout the country this Saturday, February 18. Cities like Baltimore, Philadelphia, Charlotte and Oakland will have the chance to experience the critically-acclaimed biopic starring the award-winning Taraji P. Henson, Octavia Spencer and Janelle Monae.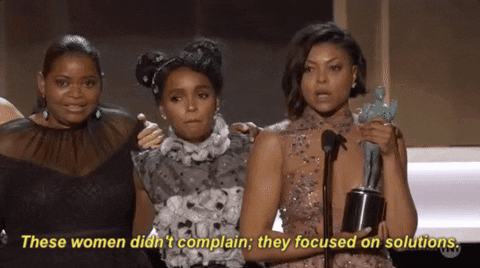 Photo: GIPHY
Tickets are available on a first-come, first-serve basis with showings starting as early as 10 AM local time. Check out the list below to see if your city's on the lineup, and purchase your tickets here:
AMC Southbay Galleria 16, Rodondo Beach, CA (LA)
AMC Aventura 24, Aventura, FL (Miami)
AMC Southlake Pavilion 24 (Atlanta)
AMC Ford City 14 (Chicago)
AMC Westbank Palace 16 (New Orleans)
AMC White Marsh 16 (Baltimore)
AMC MJ Capital Center 12 (D.C.)
AMC Southfield 20 (Detroit)
AMC Esquire 7 (St. Louis)
AMC Cherry Hill 24 (Philadelphia market)
AMC Bay Plaza 13 (NYC)
AMC Mesquite 20 (Dallas-Ft. Worth)
AMC Bay Street 16 (Oakland)
AMC Carolina Pavilion 22 (Charlotte)