Each day we're getting closer and closer to January 20, the day of which Donald Trump will become President of the United States and President Barack Obama will conclude his second term in office.
On Tuesday night, President Obama gave a final presidential address in his beloved Chicago. #ObamaFarewell was it. Life as we know it is coming to an end. For lots of people around our age, President Obama is really the only modern president tha we have, so this is honestly, truly hard. As the president took to the stage, the crowd chanted "four more years," because what else could we ask for?
Everyone gathered on their TLs like.
Watching #obamafarewelladdress with the TL pic.twitter.com/v0OGDAAOs8

— Thai Ty (@Pusha_Ty) January 11, 2017
POTUS had time during his farewell address to pull all the receipts. He was like...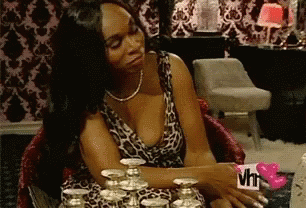 Photo: Giphy
Barry O ran down his list of accomplishments including restoring the economy, low unemployment rates, the Affordable Care Act, growth in the area of climate change, same-sex marriage and much more.
Obama listing his achievements like pic.twitter.com/P5LvARI6FQ

— Jayson Rodriguez (@jaysonrodriguez) January 11, 2017
In what may have been his most-candid remarks on race, he kept it as real as ever has before. He got off some hot-takes like "Brown kids will represent a larger and larger share of America's workforce" and "The effects of slavery and Jim Crow didn't suddenly vanish in the '60s." It was amazing to hear this coming from him, this bold.
Pres. Obama: "Race remains a potent and often divisive force in our society...we're not where we need to be. All of us have more work to do" pic.twitter.com/orYf6bmOES

— ABC News (@ABC) January 11, 2017
The president kept it real saying "science and reason matter," and that future generations won't have a chance to even argue about climate change anymore!
He never referred to the President-elect by name but made several allusions to some of the sentiments the Trump campaign has stirred up in America, as well as the amount of "fake news" that has been perpetuated, as well as internet trolls.
Pres. Obama warns of the dangers of retreating into bubbles and accepting "only information, whether true or not, that fits our opinions." pic.twitter.com/3BCjhT6y9y

— ABC News (@ABC) January 11, 2017
Then he addressed Michelle and that was the moment we everyone's allergies collectively got the best of them.
POTUS to FLOTUS: "For the past 25 years, you have not only been my wife and mother of my children, you have been my best friend." pic.twitter.com/842TMNxRYe

— ABC News (@ABC) January 11, 2017
Name a greater first couple! Name a greater first lady!
"Michelle LaVaughn Robinson, girl of the Southside" pic.twitter.com/cqAfvsgL4L

— Brit Bennett (@britrbennett) January 11, 2017
Then his eldest daughter Malia put us all in our feelings. (Sasha was doing teenage things like studying for a final exam).
Malia Obama crying while watching her dad speak. #ObamaFarewell pic.twitter.com/SFtRIwcNnE

— Lost In History (@HistoryToLearn) January 11, 2017
And we can't forget about when he talked about how our Uncle Joe Biden was his brother.
Pres. Obama to VP Biden: "You were the first decision I made as a nominee, and it was the best...I gained a brother" https://t.co/Eo0TIh4kJ1 pic.twitter.com/tHHQJBTL31

— ABC News (@ABC) January 11, 2017
He ended the address just like he started his campaign. "Yes we can." "Yes we did."
Pres. Obama: "Yes we can. Yes we did. Yes we can. Thank you. God bless you. And may God continue to bless the United States of America." pic.twitter.com/NKqcVociS0

— ABC News (@ABC) January 11, 2017
After the speech went off, everyone was just in shock.
This woman is everyone. #ObamaFarewell pic.twitter.com/gtRbyr4DTn

— Tatiana King Jones (@TatianaKing) January 11, 2017
What do we do next!?
How I'm supposed to love another President? pic.twitter.com/ldLEi97f9f

— ☘️ (@StassDoll) January 11, 2017
And we don't want to hear any criticisms while we're mourning!
y'all: 🗣 "Obama was an imperialist neolib---"

me: pic.twitter.com/Qf5Tkx3Njl

— mike from 79th. (@curatedbymike) January 11, 2017
For those of you who don't know why this is important outside of politics, just know that representation matters.
Sitting here with a little boy who sees himself on tv as @POTUS. Thank you, President Obama. I will keep fighting for him. #ObamaFarewell ❤️ pic.twitter.com/BfIe0p87Cu

— AJL (@amber9600) January 11, 2017
In case you missed it, you can watch the full speech below:
---