News
Gucci Manages To Offend Yet Another Minority Community With Outrageously Priced Turban
Here we go again...
Gucci is pissing people off, again.
The fashion house is dealing with another PR nightmare thanks to a blue turban they were selling for $790, according to NBC News.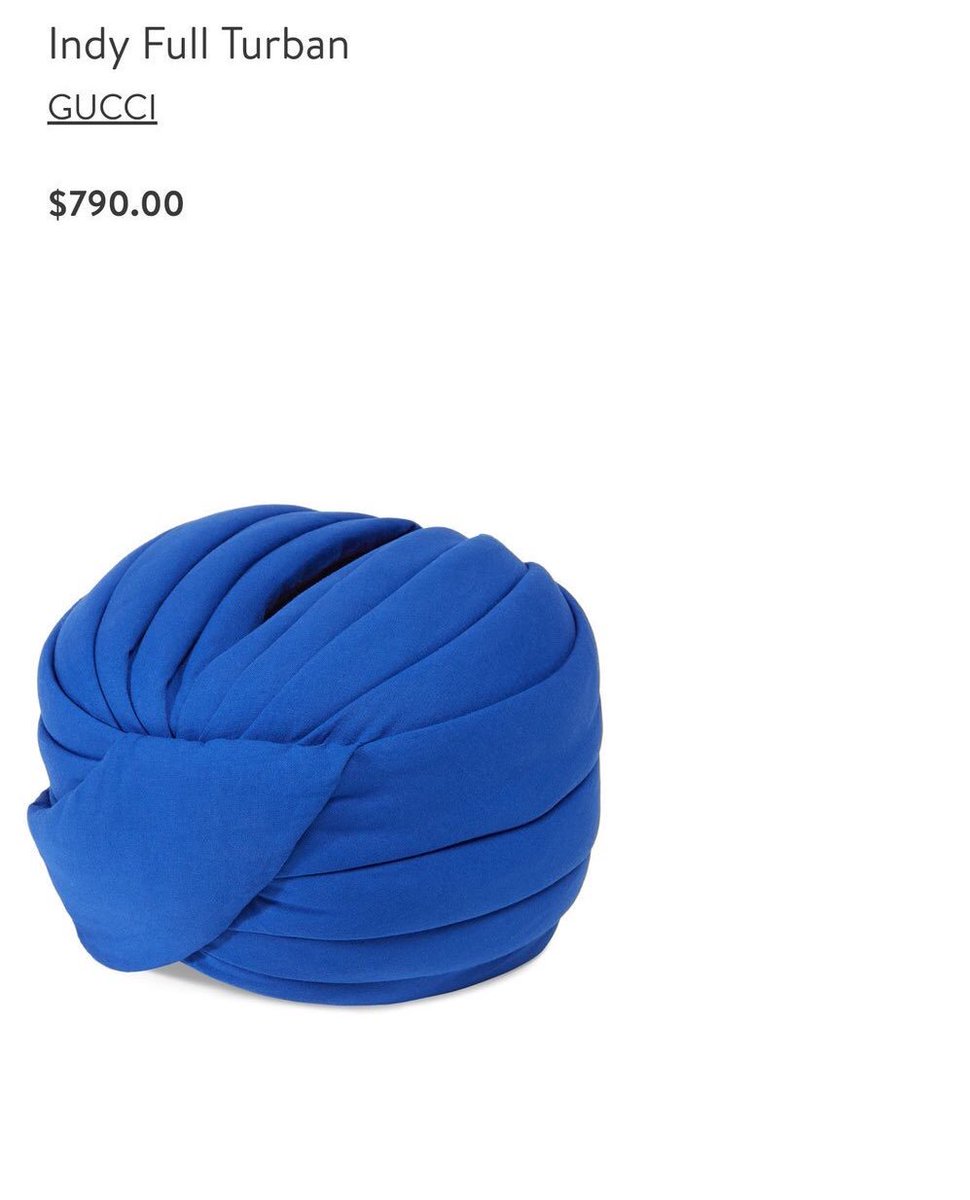 Like what you're reading?
Get more in your inbox.
Gucci also sent the turban down a runway in February.
My favorite part of Gucci appropriating the "Indy turban" is that they made it unisex.... even for hijabis? 🤷🏻‍♀️🤦🏻‍♀️ pic.twitter.com/3ItUCxfoYD

— Nidha R (@nrafiqii) May 16, 2019'
"The turban is not just a fashion accessory to monetize, but a religious article of faith that millions of Sikhs around the world view as sacred," The Sikh coalition said in a statement.
Sikhs also expressed their displeasure on social media.
Dear @gucci, the Sikh Turban is not a hot new accessory for white models but an article of faith for practising Sikhs. Your models have used Turbans as 'hats' whereas practising Sikhs tie them neatly fold-by-fold. Using fake Sikhs/Turbans is worse than selling fake Gucci products pic.twitter.com/sOaKgNmgwR

— Harjinder Singh Kukreja (@SinghLions) May 16, 2019'
This is beyond aggravating. Did someone at @gucci even bother to figure out what a dastaar (turban) means to Sikhs? Did it cross your minds to consider the history behind our identity? My people are discriminated against, even killed, for wearing a turban. pic.twitter.com/G62edSmjhf

— Aasees Kaur (@SouthernSikh) May 14, 2019'
Would a white man wearing a turban sold by Gucci go through the same mistreatment and cruelty that a Sikh man faces? No. It ain't a fashion statement - it's a promise that is kept despite the myriad of uneducated people that exist today. Don't wear it unless you can be about it. pic.twitter.com/hgVsUo3DlY

— Gurpreet Bhasin (@electrilux) May 17, 2019'
This isn't the first time Gucci has made a tone-deaf decision. As Blavity previously reported, Gucci was heavily criticized in February for their balaclava sweaters because they featured big red lips on black sweaters, which resembled Blackface. The misstep led to calls for a boycott from several celebrities including T.I., Waka Flocka and Soulja Boi. It also led to the creation of the ingenious "Pale Face" turtleneck.
"We consider diversity to be a fundamental value to be fully upheld, respected, and at the forefront of every decision we make," Gucci said in its apology statement.
"We are fully committed to increasing diversity throughout our organization and turning this incident into a powerful learning moment for the Gucci team and beyond."
The brand later established its Gucci Changemakers program to "support industry change and to foster unity through community action."
The program includes a $1.5 million scholarship fund and a $5 million grant program for community organizations. The Gucci North America Changemakers Council was also created and has several prominent members on its board, including Naomi Campbell, Will.I.Am and Dapper Dan.
"I believe in dialogue, building bridges and taking quick action," said Gucci President and CEO Marco Bizzarri. "This is why we started working immediately on the long-term infrastructure at Gucci to address our shortcomings. And now through our Changemakers program, we will invest important resources to unify and strengthen our communities across North America, with a focus on programs that will impact youth and the African-American community."
Back to the drawing board, Gucci.
---
Sponsored Content
7 Ways To Execute Your Dreams