Halle Berry came through for two Black reporters who were denied an interview with her as she walked the John Wick 3 red carpet.
Emerald Marie, a reporter for What's The Buzz TV, posted a YouTube video about her experience as a Black reporter on the red carpet. Marie said she was eager to interview Berry on Thursday but a public relations representative for the company who organized the event told her she wouldn't be able to speak to the actress, reports Metro. Lamar Dawson, a Black reporter for Logo, was also denied an interview.
"Well tonight, Halle Berry interviewed with everybody. As she approached myself, I was the only Black woman on the carpet and there was only one Black male," Marie recalled.
"As soon as they got in front of Lamar and myself, her PR said they had no time to speak to us and they began to walk away. I prepared all day, I was super excited. Who doesn't want to talk to Halle Berry?"
The PR rep claimed the pair couldn't talk to the Monster's Ball star because they had run out of time.
"Sorry guys we don't have time. I'm so sorry," the unidentified woman said.
When Marie asked if it was possible to do a group interview, the PR person denied the request.
"They don't have time for anything because they're already starting at the theatre," the woman replied.
Marie was disappointed until Berry realized what was happening and decided to do the interview.
"She looked at me and looked at Lamar and said, 'No, I can't skip my brother and my sister,'" Marie recalled.
The experience left Marie emotional.
"'I have covered the last 4 major films out and I was the only Black person at all 4 screenings! That's a problem," she said.
"But on Thursday Halle Berry spoke up for me and I'll honestly never forget that I have a newfound love and respect for her!!"
Dawson called Berry "a queen" on Twitter and shared a video of Berry explaining why she stopped for the Black reporters.
Last week, I shared a story about how Black journalists are often skipped on red carpets, but at the #JohnWick3 premiere @halleberry came back to talk to me and @EmeraldMarieTv. Halle was asked about it today and am moved by her response @strongblacklead
@balleralert
@jemelehill
pic.twitter.com/h0N9fkKVBL

— Lamar Dawson (@dirrtykingofpop) May 16, 2019
"Well, I'm gonna make time for the media and I'm certainly going to make time for my Black brothers and sisters," she said.
"I've talked to all these other people, why not talk to him too? It wasn't even a thought," Berry continued.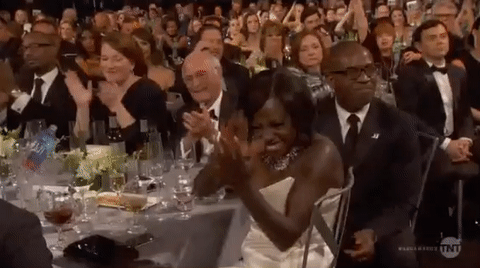 We stan a queen who stans her fellow queens.