Here's How You Can Own Drake's Handwritten 'Room For Improvement' Lyrics
Nate D. Sanders Auction House opened the items at $8,000.
Drake's and Meek Mill's beef from a few years back put a spotlight on rumors that the "I'm Upset" rapper had a ghostwriter a ghostwriter. Drake's recent beef with Pusha T reignited that conversation and more scalding tea to sip on
Whether or not fans believe Drake has a ghostwriter or not, they may be very interested in copping some handwritten lyrics from the Canadian artist.
According to The Fader, the Nate D. Sanders Auction House has put one of Drake's notebooks up for sale, and it can be yours for starting at $8,000.
OG Drake fans would probably love the notebook, as it includes handwritten lyrics from his 2006 mixtape, Room For Improvement.
"In addition to the handwritten lyrics, Drake also details the credits for nine of the tracks, as well as composes an interesting to-do list entitled, ''My First Album' which states, 'You Need: The Greatest Song Ever … Maxwell or D'Angelo Feature, Andre 3000 Produced Track, Indie Arie Feature, Usher Feature, Voyce Feature,'" according to the item's bidding page.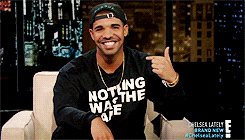 "Under the list is a self-motivating quote, 'When you understand life is when you can relax because everything you can ever want or be you already have and are.' Drake also signs his name four times throughout the book, once as Aubrey Graham with Drake written underneath, once simply as Drake and a third time with an ornate 'D' and then ''RAKE'," the description continues. "Peppered throughout the notebook are little details of Drake's daily life and thoughts, including an appointment for a haircut, addresses and phone numbers of friends and associates, and miscellaneous musings, such as 'Everything said is heartfelt' and ''Don't love yourself!!!'"
The notebook was from his Degrassi: The Next Generation days, and he was 19-years-old at the time the notes were written.