It's not easy to stand out or find longevity in the music industry, today. However, it's even harder to gain credibility in such an industry when people pre-label you as the kid of a celebrity who doesn't have to work hard to earn some recognition. For several years, child celebrity Jaden Smith has had an unwarranted target placed upon him simply due to the privileged hand he was dealt at birth. However, through his teenage years, he's sought to show others that they're making a mistake by turning a blind eye to his talents simply because of his namesake.
Aside from the influx of mumble rappers of his same age making absent-minded hits for the current generation of young minds to absorb, here are five reasons he may become one of the more consistent hip-hop artists of the next generation.
1) He really is a young ICON.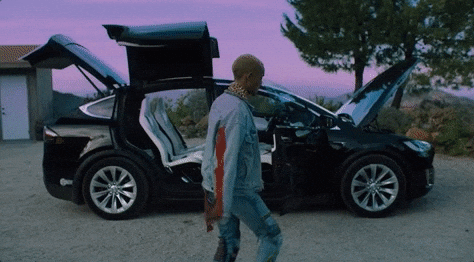 Credit: Giphy
So far, Jaden's biggest hit to date is "ICON" – a choppy, bass-boomin' declaration that finds him confidently boasting about his rising fame and influence in entertainment whether it be music, fashion, or cinema. When reflecting about the process of making the biggest song off his debut album SYRE, he explained that he started writing the verse and initially lost interest. However, it wasn't until after he returned from the 2016 British Fashion Awards where he and his sister received a 'Fashion Icon Award' that he accepted his reality of serving as an iconic public figure to many young creatives seeking to express themselves in today's industries.
2) His clique is growing and that's not to be taken lightly.
Photo Credit: Twitter – @JColeNC
After making his first introduction into music with his 2012 mixtape titled, The Cool Cafe, much of Jaden's music consisted of short tracks and freestyles meant to showcase his quick, lyrical ability. In the years that have followed, he's found himself as a featured artist on tracks for popular names in the music industry such as Raury, Childish Gambino, Tyler The Creator, and A$AP Mob. After the success of SYRE, hip-hop heavyweight J. Cole pegged Smith to join him as an opening act for his KOD Tour alongside other openers including rap duo EarthGang and Young Thug. It's hard to argue against a co-sign from Cole World himself.
3. He's dedicated to making his own sound.
Nowadays, young artists are becoming more expressive and freethinking in terms of the sounds and words they want to deliver to their followers. Atypical from most rappers his age, the sounds on Smith's album feature an assortment of different melodies backed by electric guitars, bass drums, chords, and synthesizers that lend credit to his abstract persona. By sighting his main artistic influences as Kanye West, Kid Cudi, Frank Ocean, Kurt Cobain, and Tycho, he showcases a keen interest in electric, rock, and alternative music that he intertwines into his songs today. Unlike some artists who remain cautious about how their fans will react to moves different from the norm, he's eager to push the envelope, which he showed by releasing a completely electric version of his album in July.
By fusing together elements from multiple genres into his collection, Smith is gradually changing the image of what a typical hip-hop artist sounds like while providing a new, dynamic sound to his fellow energetic and vibrant peers of Generation Z as well as the millennial hipsters born slightly ahead of him.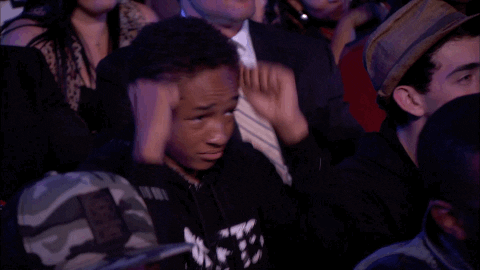 Credit: Giphy
4. He wants to make his own name but respects his dad's legacy.
Photo Credit: Instagram – @willsmith / Tony Pillow
Per usual when it comes to kids of well-known celebrities, Smith entered the entertainment industry with an advantage as "Will Smith and Jada Pinkett Smith's son," a fortunate upbringing that considerably helped him land roles in the films The Pursuit of Happyness, The Karate Kid, and After Earth. However, much of Smith's time in the tabloids as an adolescent was centered on the parenting style of his celebrity parents who were often questioned for how expressive and free they let their kids be when it came to forming their own identities. As Smith has matured and made his own waves independent of his parents' name, he has shown a quality appreciation for how much his dad supports his dreams. When interviewed after the release of his album, he cited his fresh father as one of his musical influences because of the positivity his dad infused into songs back in the day. With Smith's main priority centered around solving society's problems in a world filled with conflict, he shows a respect for the impact his dad has had while trying to mirror some of the same relatable and positive messaging in his own right.
5. He's just getting started.
Just like his idol Kanye West didn't place all his eggs in one basket, Smith's versatility can be found in his endeavors in cinema, fashion, and world empowerment. This year, he's set to appear in another movie, Life in a Year, alongside actress Cara Delevingne. Whether he plans to pursue any other movie or TV roles in the future, it's safe to say that he could land quality appearances in legitimate productions if he so desired.
On the other end, he runs MSFTSrep, which is described as an art collective and lifestyle brand that encompasses music, fashion, education and more. Comprised of himself, his sister Willow, and musician Harry Hudson, the trio focuses on stretching the limits that are typically placed upon the creative, youthful generations by promoting individuality and free-flowing expression. Featuring a joint partnership with Roc Nation, the brand has the backing to spread their messaging to the masses in order to inspire others to be their best and most genuine selves with the best interest of the world at heart.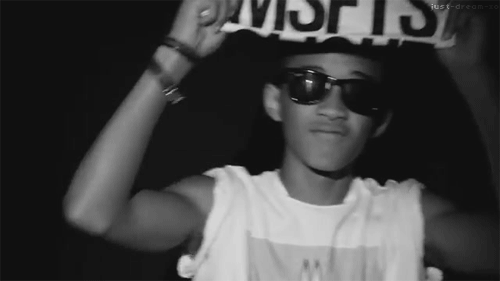 Credit: Giphy
Philanthropically, he's a strong advocate for Just Water, an environmentally conscious water bottle company that focuses on reducing greenhouse gas emissions by using renewable resources to bottle water instead of plastic. Through his efforts, he decided to join the Environmental Media Association's board of directors to assist with the group's initiatives on uniting like-minded individuals concerned with eliminating harmful, plastic products from the environment.
Photo Credit: Beth Saravo
Overall, when you take the 5 reasons above into consideration, those skeptical about Smith's ability to succeed as an artist and public figure should begin to see him for the talented abstract that he is. Just because he came from a better background than most and still has some more dues to pay in the music industry, doesn't mean you should sleep on Jaden Smith in the least bit.