Janelle Monáe And Tessa Thompson Are Pretty Much Giving Black Girls Their Own 'Vagina Monologues' With New 'PYNK' Music Video
Janelle invented pink.
April 10, 2018 at 5:34 pm
Janelle back! Specifically, Janelle and Tessa are back! Have we decided yet if the lovely duo's name is Jessa or Tanelle?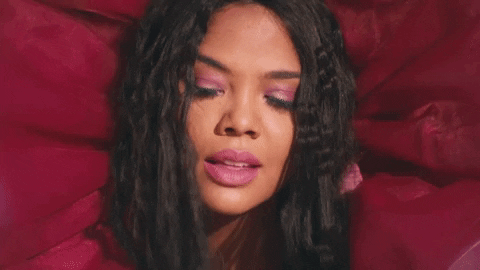 Janelle Monáe debuted her new music video, "PYNK," featuring Grimes, this week, and it is the visual representation of womanhood! In all of their colorful splendor, women are celebrated for their inner strength and outer sexiness in the video.
You may remember the excitement over Tessa Thompson's appearance in Monáe's "Make Me Feel" video, a "San Junipero"-esque exploration of bisexuality. Well, thank the Lord, the two have reunited for Monáe's "PYNK!"
The video is a direct exploration of femininity down to vagina pants, sex cells briefs (with unapologetic pubic hair!) and gyrating glowing black girl bodies.
P*ssy power, indeed.
Needless to say, Twitter was all the way here for the new joint:
Overjoyed. Ecstatic. Imagery. Soundscape. Creativity. Set. Costume. Concept. Take my money now. NOW I SAY! pic.twitter.com/VEEEHiMd7B— Ashley M (@amorse8) April 10, 2018
Vaginal motifs in art.— Allie H (@alliesatwar) April 10, 2018
Ohhh, and it's Janessa! Duly noted.
Gay tears are dripping from my eyes my heart and my vagina. pic.twitter.com/JVQ4NWjs7S— Sharonslayy (@sharonslayy) April 10, 2018
Aftermath of this video.

Balls= Retreated
Pussy= Popped
Wig= Snatched— Raid Ubaid (@Diar_Diabu) April 10, 2018
pic.twitter.com/bKVkufCsOH— Jay (@_JayLenard) April 10, 2018
me by the time this album drops pic.twitter.com/nFUCxoLME3— Chipotle Mayo (@ppy234) April 10, 2018
"Pink is my favorite part."

Message. pic.twitter.com/8falzLHeyq— Old Saint Hood™ (@oldsainthood) April 10, 2018
SOMEBODY GET ME MY SMELLING SALTS!! pic.twitter.com/iOpqMwfEkE— Maxine Shawls ???? (@ginandtectonica) April 10, 2018
pic.twitter.com/gQ1Qcwn5Rl— jabitacá (@beaTROPIX) April 10, 2018
It's official: we want to see Janelle and Tessa pair up in all the things! Team Janessa: That's OUR favorite part!