Black Twitter
Michael B. Jordan Takes Time Out Of His Busy Schedule To Clapback At A Hater, And We're Loving His Response
Don't be mad that you ain't got the juice like that!
Photo Credit: Photo: Jamine Simpkins
Michael B. Jordan has long captured our attention. However, with the release of Black Panther, the thirst for the 31-year-old has seemed to skyrocket. Although the thirst is all fun and games, it has still managed to make a few young men salty AF.
After Jordan's 73 Questions with Vogue resurfaced, we find out that he lives with his parents and enjoys anime — two traits many men attribute to why women aren't interested in them (we're sure that's it). The fact that despite these attributes women still want to be the next Mrs. Jordan caused some men to take to Twitter with their disdain.
Your MCM likes anime, you curved a nigga for liking anime last week. pic.twitter.com/34dn2xlLkT

— ஃ (@jntrvnce) February 20, 2018
Michael B Jordan Is A 5'9" Adult Man That Loves Anime & Lives With His Parents....Y'all Told Me All Of Those Things Were Unacceptable Though

— Chris (@chrisfrom_216) February 22, 2018
Which gained clapbacks from other Twitter users, stanning for MBJ.
The "Oh now everyone likes anime huh? Chicks used to curve me all the time for liking it" starter pack pic.twitter.com/lVic5nDr1I

— Beyonce has an uncle named Larry Beyince. Bruh.... (@DragonflyJonez) February 20, 2018
I don't know a lot of black men who *don't* like anime so you were probably getting rejected cuz you had a relaxer and couldn't dress

— Minnie Mouse 💕 (@xoxoxMinnie) February 20, 2018
However, one lucky user got a clapback from Mr. Jordan himself. The actor found time in his busy schedule to lay out the facts for you.
First of All I'm 6ft and they live with ME, put some respeck on my name. LOL...aaaand goku & naruto are real ones 🙌🏾 lol https://t.co/QspyHD2zwH

— Michael B. Jordan (@michaelb4jordan) February 23, 2018
"First of All I'm 6ft and they live with ME, put some respeck on my name," he wrote.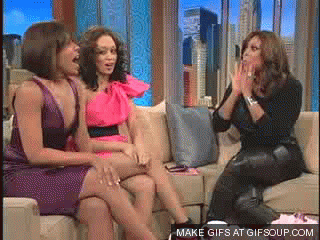 That's right, let 'em know!
His response just led even more women to expose their thirst for the actor.
BABY DADDY HAS SPOKEN!!!! pic.twitter.com/ivZs0kEf33

— Aja (@moodluv) February 23, 2018
First of all I'm pregnant and it's yours

— big dookie dale (@trashsavethecat) February 23, 2018
Anime or not, you're still Michael Bae Jordan to us.