Millions Are Being Purged From Voter Registration Lists, And It Could Have A Huge Impact On The 2018 Election
There have been too many errors committed with this process to fully trust it!
Have you heard of "voter purges?"
The controversial process is typically used to clean up voter registration lists so that they're up to date. The legality of the practice was questioned, and a case on Ohio purging practices went all the way to the Supreme Court this year. As NPR reported at the time, the Court ruled purges of inactive voters are, in fact, legal.
However, opponents of the operation call it a form of voter suppression.
In a new report entitled, "Purges: A Growing Threat to the Right to Vote," the Brennan Center for Justice thoroughly examined recent cases of voting purging in an effort to shine a spotlight on just how damaging the process can be. In particular, the authors looked at how voter purges could affect the 2018 ballot.
Overall, the report found four states did not follow federal law in their purges, illegally purging voters from rolls, and that another four states have passed purge rules that are not legal under current federal law.
In the worst cases, the authors found voter purges resulted in voters showing up to the polls only to be turned away because their names were not on the rolls.
A number of these people should never have been removed.
The authors cite one particularly alarming example from 2016, in which Arkansas' secretary of state sent a request to county clerks to remove 50,000 names of people who were deemed ineligible to vote due to felony convictions. However, due to many clerical errors, at least 4,000 people without felony convictions were removed from the list.
The study found that mistakes like this one affect black and brown people more than white people because people of color have a smaller pool of last names (13 percent of black Americans have one of America's 10 most common surnames) which leads to errors when striking people from voter registration lists.
People of color were also found to be more likely to have their right to vote suspended due to incarceration, and were also found to be more likely to move. When you move, you have to register under your new address; reminders to register under this new address are supposed to be forwarded to wherever you've moved to. The report found that officials in some states sent reminders in formats that could not be forwarded, meaning people never got their reminders, meaning they never re-registered.
One official, Pulaski County Clerk Larry Crane, said things are quite dire.
"There's an old saying that you can't unring a bell, and that's where we are," Crane said.
The fate of many governor's seats as well as control of Congress will be decided in 2018's elections.
Turnout for those elections could be lowered by risks cited by the study, such as the misuse of challenger laws (officials being able to question a voter's eligibility at the polls on Election Day), potential "non-citizen purges" that target suspected non-citizens, crosschecking voter rolls across state lines and "voter fraud vigilantes" (including the Trump administration) pushing more extreme purging campaigns.
What can we do to make sure we're able to vote?
The authors suggest that the National Voting Registration Act's protections be aggressively enforced. The report also calls on states to expand and introduce more voter protections instead of simply relying on the National Voting Registration Act. It also suggests authorizing automatic voting registration.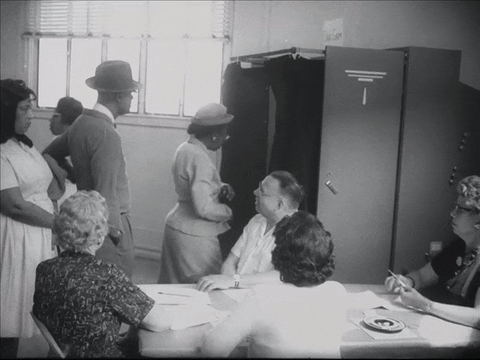 You can check whether you are registered to vote using online tools such as HeadCount.
Now, check these out:
Why Democrats Can No Longer Abuse The Black Vote For Their Seats In Office
Members of Congress Introduce Legislation to Repeal Trump's Voter Suppression Executive Order
Report Highlighting Priorities Among Black Voters May Allow State Politics To Have Its 'Wakanda Moment'