Nicki Minaj Declares A Whole Mood While Discussing Being Single For The First Time Since She Was 15 Years Old
"As soon as I realized that I could actually live and breathe, and eat and sleep, and walk and talk without having a boyfriend, something clicked in me."
When you hear the name Nicki Minaj, a series of words may come to mind: theatrical, rapper, queen…but single? Probably not. After all, a woman of her caliber could have nearly any partner she wants. However, in her latest interview with Elle, she reveals that the only person she wants right now is herself.
After a four-year hiatus, the Queen returns. @NICKIMINAJ is our July 2018 cover star, photographed by @KarlLagerfeld: https://t.co/muwlo8IFVv
pic.twitter.com/zq1iTuLGYl

— ELLE Magazine (US) (@ELLEmagazine) June 13, 2018
Nicki Minaj is in beast mode as she prepares to release her latest album, Queen, in August. The project is slated to follow the upbeat vibe of her singles "Chun-Li" and "Barbie Tingz," and as her first album in four years, she's calling it not just her best, but the best.
"I really think it's gonna be the best album of the year," she told Elle, crediting a fresh rival and finding her sound again to her confidence.
"I went through a moment where I got to know myself again, and then I went through a moment where I got to know myself as the rapper again. And then I locked [myself] in the studio, and I didn't want to leave," Minaj said. "Spiritually, I've experienced more growth in the last six months of my life, of my career, than I have in the last eight years."
The Queens-bred rapper says we can thank her single status for the newfound sense of self.
"It's the first time in my life I've ever been single," the 35-year-old admitted.
Most notorious is her 12-year on-again-off-again relationship with fellow rapper Safaree Samuels. Even before that, though, she was prone to long-term relationships, starting at age 15.
HQ: Nicki Minaj's July issue of the ELLE Magazine — https://t.co/gJ8jcuMcl2. pic.twitter.com/uh93MrLrY6

— Minaj Society (@MinajSociety) June 13, 2018
"I remember feeling like I could do anything at one time in my life, and somewhere along the line, I just started second guessing myself, for whatever reason," she said. "As soon as I realized that I could actually live and breathe, and eat and sleep, and walk and talk without having a boyfriend, something clicked in me."
"Becoming single," she continue, "was one of the things that made me feel strong and powerful. The fact that I am a young woman who doesn't need a man for money. I don't need a man for a job. I've never had to f**k for beats. I've never had to f**k for a record deal. I don't have those pressures. I get up when I want, shop when I want."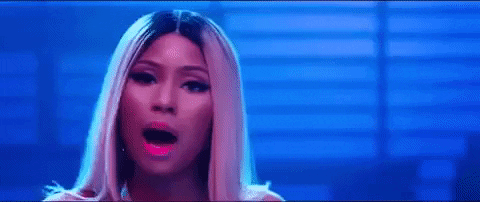 Minaj dated Meek Mill and hip-hop legend Nas. She's also made a name for herself at the top of her male-dominated Young Money label alongside Drake and Lil Wayne. Even after being forced to find her way in the boys club, she is finally feeling like the queen she crowned herself years ago.
What a testament to loving yourself, self-care and protecting your energy at every status of your career.