A real-life wonder woman just threw the best Wonder Woman party to ever happen!
That's right, the Oprah Winfrey recently posted several videos on Instagram announcing that she threw a Wonder Woman-themed party for a group of super lucky 10-year-olds, via E! News. It was a Happy Wonder Woman Day, indeed!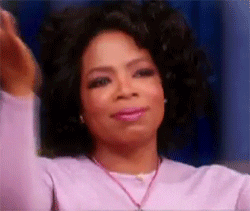 "So excited 'cause what … it's Wonder Woman day in my house," she said on Instagram in her patented sing-song tone. "I'm having a party for 28 10-year-olds and Tiana just brought the cake from Charm City Cakes."
The decadently decorated cake showed off the Wonder Woman emblem in all of its glory.
Auntie Oprah! I mean, can we retroactively become 10 years old so that we're invited to the next one, in the event there's a sequel?
To seal the monumental occasion, Oprah assisted in topping the cake with the Wonder Woman fixture. "I'm going to help you put it on, OK?" she directed toward Tiana, who was sporting a Charm City Cakes t-shirt. "This is a crowning moment!" In her signature singsong voice, she added, "Wonder Womaaaaaan! Happy Wonder Woman day!"
Oprah is clearly a Wonder Woman stan and it's so cute!
But, y'all know Oprah can't just stop at the cake, right?! Oprah is about that "all or nothing" life. Additionally, she flaunted a couple Wonder Woman-themed popcorn buckets.
"And guess what?" she added in true giddiness. "Wonder Woman cups all just arrived." She then topped it all off with Wonder Woman's signature powerhouse pose.
Of course, Twitter was just as geeked as us!
Oprah is throwing a #WonderWoman party for a bunch of ten year olds today and I love it so much pic.twitter.com/QO5I4ZPELY— Jarett Wieselman (@JarettSays) June 13, 2017
oprah fangirling over wonder woman is a big summer 2017 mood pic.twitter.com/Xs0KK9sHzU— edgelord allan poe (@haarleyquin) June 14, 2017
If Oprah is doing all of this for Wonder Woman imagine what her Black Panther party is going to be like. pic.twitter.com/zKUkFSZ4mm— Matthew A. Cherry (@MatthewACherry) June 13, 2017
Seriously, can we get an invite next time? Pretty please?