Rihanna reign won't let up any time soon.
She is the richest female musician in the world, according to Forbes. Her $600 million fortune makes her richer than Beyoncé, Madonna and Celine Dion.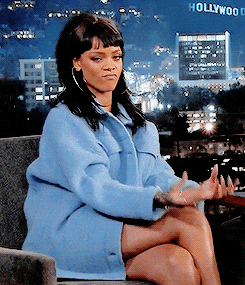 Music doesn't make up the majority of Rihanna's wealth. Instead, the "Work" singer made her the bulk money from her partnership with LVMH. Fenty Beauty was their first collaboration and it is a bonafide hit. The cosmetics brand, which launched in September 2017, reportedly made $100 million within its first few weeks of operation. Fenty Beauty kept the momentum going and made about $570 million in 2018.
Fenty Beauty and its more than 40 shades of foundation were welcomed with open arms from women of color who are used to being ignored by the beauty industry.
"It challenged the standard convention that you only needed a very defined set of shades to satisfy a market," said research analyst Stephanie Wissink. "Not only did [Fenty Beauty] achieve meaningful sales, but it potentially changed the industry permanently."
Rihanna and LVMH launched Fenty, her luxury fashion house, in May, making her the first Black woman to launch an original fashion house with the brand. Wissink believes it will be profitable like its predecessor.
"What Fenty Beauty did to beauty, Fenty lifestyle is going to do to fashion," says Wissink. "It's going to raise the bar for what it looks like to build a brand that's inclusive, game changing, global and iconic."
The Barbadian beauty's work ethic can be attributed to her determination to prove her haters wrong.
"I didn't have these dreams when I was little. I had a dream of making music; that's it," she told T Magazine in May.
"I didn't even think about the fame part, and then that happened, and it's like, "Do I really like this? How much do I really love music that I'm dealing with this?" Then the one-hit-wonder comment came straight out of the gate and that put a fire under my ass, and I just never stopped working. Every time it was about challenging myself: I have to do better, I have to do better."