Sarah Huckabee Sanders Asks April Ryan What She's Thankful For, Not Expecting This Epic Clapback
After Ryan's biting follow-up, Sanders said she was "starting to regret" calling on her first.
November 24, 2017 at 7:10 pm
American Urban Radio Network reporter, CNN commentator and NABJ journalist of the year April Ryan has been known for not biting her tongue during White House press conferences, and this Thanksgiving season was no exception!
According to The Hill, White House press secretary Sarah Huckabee Sanders started off a recent press conference by saying that she was thankful for all of the reporters in the room, and then told the reporters to tell her what they were thankful for before asking her any questions.
"If you want to ask a question, I think it's only fair, since I've shared what I'm thankful for, that you start off with what you're thankful for," Sanders said, before picking on Ryan to go first.
"April, you've been sooo eager," Sanders said, referring to an exchange earlier in the briefing when Ryan tried, unsuccessfully, to get answers out of Sanders about Secretary of State Tillerson's thoughts on North Korea.
We bet she wasn't expecting her full response, though!
"I'm thankful for life. I'm thankful for my children. I'm thankful for twenty years in this job," Ryan said before finishing, "I'm thankful to be able to talk to you and question you every single day."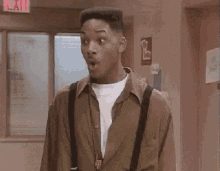 Ryan then asked another question about North Korea, which Sanders answered in her now infamous way, but the tension rose when Ryan kept going, diving into President Trump's Twitter shenanigans.
"And lastly, this back and forth Twitter," mentioned Ryan.
That's when Sanders decided to shut it down.
"I'm sorry, April. I'm going to keep moving," Sanders, as she briefly cut her off.
But, Ryan wasn't backing down. "I understand. But this is a hot story. Does the President regret," Ryan said. She pressed again asking, "Does the President regret his tweet —," to which Sanders became more and more visibly uncomfortable as displayed in the video.
"April, I'm starting to regret calling on you first," Sanders then said.
"You're thankful for all of us," Ryan reminded her.
We guess it's safe to say that Ryan's and Sanders' back-and-forth has heated up! Stay tuned …