Serena Williams Reprises Her Role In Beyoncé's 'Sorry' Music Video For 'Lip Sync Battle'
Andy Roddick was shook.
January 29, 2019 at 7:09 pm
Serena Williams recently went up against fellow tennis player Andy Roddick, but she didn't bring her racket.
Williams appears on an upcoming episode of Lip Sync Battle to help Roddick's wife, actress Brooklyn Decker, win the competition, reports People Magazine. Decker's track was "Sorry" by Beyoncé, so it was only fitting to have Williams reprise her role from the music video. Williams stood on a bus prop and danced in a form-fitting black leotard and matching thigh-high boots.
Roddick looked equal parts shocked and thrilled to see Williams. When host LL Cool J asked how she felt following the performance, Williams expressed her joy.
"Oh my god, it was so fun. It was so fun. We're here to win this," said Williams.

Queer Eye stars Bobby Berk, Karamo Brown, Tan France, Antoni Porowski and Jonathan Van Ness also paid tribute to Queen Bey during the episode, according to E! News. They even wore customized Beychella outfits for the occasion.
Lip Sync Battle is no stranger to the Beyhive.
Beyoncé herself famously appeared on Lip Sync Battle in 2016 to help Channing Tatum beat then-wife Jenna Dewan.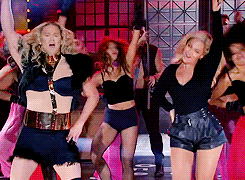 The episode premieres on Thursday on Paramount Network.
Blavitize your inbox! Join our daily newsletter for fresh stories and breaking news.
Jermaine Dupri Promises To Share His Super Bowl Stage With Mothers Of Police Brutality Victims
'Saturday Night Live' Comedian Does Spot-On Reenactment Of That Absurdly Entertaining Soulja Boy Interview
'Who Dat,' Really?: 7 Things You Probably Didn't Know About J. Cole