Thanks to Chance The Rapper, Soundcloud Releases Will Be Eligible For 2018 Grammy Awards
It's time for The Grammys to accept how fast the music industry is evolving.
January 23, 2017 at 1:53 pm
It's no secret that the music industry has drastically changed over the years. Thanks to the shift from CDs to streaming services, the way we listen to and interact with music is on a whole new level. The industry hasn't only changed for us, the consumers, but it's made a difference in the careers of mainstream artists. For example, despite its lukewarm reviews, Drake's fourth studio album, Views, became the first album to accumulate one billion streams on Apple Music and three billion on Spotify, making it four-times platinum.
Photo: Vice
Another major shift in the music industry is that a lot of our favorite artists have decided to take their money and business out of big companies and travel the independent route. As you can imagine, going independent has just as many cons as it does pro. One of the cons being that you have to make a profit off your music in order to be recognized by the highest accolade in the music world–The Grammys.
Last year, a music enthusiast named Max Krasowitz started an online petition for the Grammy awards to begin acknowledging music released for free on streaming services and even caught the attention of Chance The Rapper. To no real fans' surprise, Chance was 100% down for the movement. He's one of the only rappers that refuses to sell his music. He even confirmed it on Kanye West's "Ultralight Beam" by rapping "He said let's do a good ass job on Chance Three, I hear you gotta sell it to snatch the Grammy, Let's make it so free and the bars so hard, That there ain't one gosh darn part you can't tweet."
Chance 3 ended up being Coloring Book and he kept his promise to Kanye and did a great ass job. So great that Coloring Book earned seven 2017 Grammy nominations, making history as the first streaming album to do so. Being eternally grateful, Chance spearheaded this movement and was quite successful with getting the Grammys to recognize music released on Soundcloud– a free, online distribution platform utilized by artists of all genres– for eligibility in 2018.
So what does this mean?
This change will allow completely independent artists, with some ties or absolutely no ties to big labels or streaming services to receive recognition for their work. They are still working out the minor details but isn't it awesome to know that some of our favorite underground artists don't have to sell their souls to be nominated for a Grammy?
It's a pity that some of our favorite mixtapes like Drake's So Far Gone or Kendrick Lamar's Section .80 didn't get a chance to shine but imagine all the quality work we'll get in the future?
Thank you, Chano!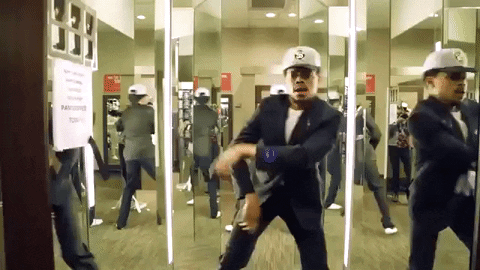 Photo: Giphy
---
Loving Blavity's content? Sign up for our newsletter!