Migos have shown that they love doing it for the culture; however, their newest music video takes it a step further as they mix two different eras of legendary blackness.
In the new visual for "Walk It Talk It," the trio collabs with Drake to bring us a '70s-themed video where they perform on the fictional show Culture Ride. The show pays homage to Soul Train with Jamie Foxx playing the fictional host, Ron Delirious, as he, Migos and Drake sport huge Afro wigs. In the background, we see disco balls, dancers and roller skaters all comparable to the set of Soul Train.
There's even the iconic "Soul Train Line" renamed for the video as the "Walk It."
Walk it Talk it pic.twitter.com/5o88qwfxeH

— QuavoYRN (@QuavoStuntin) March 18, 2018
The video did exactly what it was supposed to do as the internet began buzzing about the genius behind the concept.
#WalkItLikeITalkIt
#WalkItTalkIt yo this video is iconic drake came in like MJ legendary Goats ???? pic.twitter.com/YKcMfVpKjL

— Knasty (@sleepxwalker11) March 19, 2018
Offset been perfecting his pop lock for the Walk It Talk It video for a long time pic.twitter.com/sYwibKjMt4

— Jonathan ???????????????? (@Hiro_theKid) March 18, 2018
My boy offset or is that Bobby proud

"Walk it like I talk it " ???? pic.twitter.com/FTXKzM7FOO

— ImJustTay (@Itsjusttay402) March 19, 2018
Drake looking like he about to drop his own haircare line in the walk it talk it video pic.twitter.com/NGyFJOwznd

— KaHa (@Kaha_99) March 18, 2018
Migos Walk It Like I talk It video may be one my favorites ever lmaooo

— Dee Holt (@D_1andOnly_) March 18, 2018
That walk it like I talk video just made me like the song ????????????????the migos have been very creative with their videos…coming from what they use to do, I applaud them fasho ????????

— KD (@elitelife_kd) March 19, 2018
Walk it like i talk it video. Three great things.

1) jerry curl Drake.

2) offset saying jokes on y'all. I know i can dance.

3) the homage to soul train.

— vibranium bundles. (@thegirllogan_) March 18, 2018
In an era where creativity in music videos is lacking, Migos have been killing it. We're here for it!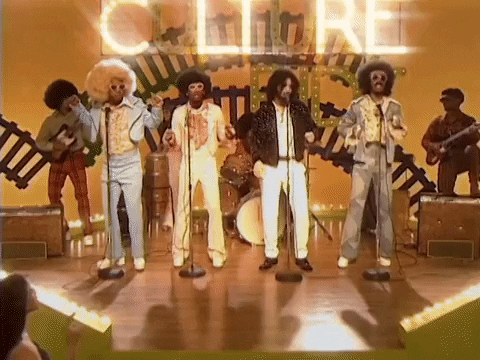 Photo: Giphy