12 Times Blackness Shut S**t Down At The Met Gala
Slay you enchanting gawds and gawdesses. Slay.
Black excellence strikes again on one of the biggest nights in fashion. On Monday night, melanin overtook the 2018 Met Gala red carpet and showed no mercy. These celebs stuck with the theme "Heavenly Bodies: Fashion and the Catholic Imagination," and made us viewers at home feel like we were indeed walking through the heavenly gates.
The major annual event is the invitation-only fundraiser to benefit the New York's Metropolitan Museum of Art's Costume Institute. Check out the absolutely angelic looks from these melanated kings and queens for this year's gala.
1. Rihanna never, ever comes to play.
2. Janelle Monae is constantly reminding us that she is a Q.U.E.E.N.
Vogue UK
3. Kerry Washington was living her life like it's golden.
The Root
4. SZA was giving us SZArella at the ball vibes.
Vogue
5. Chadwick Boseman chose to continue the legacy of Black Panther like the pure royalty he is. #WakandaForever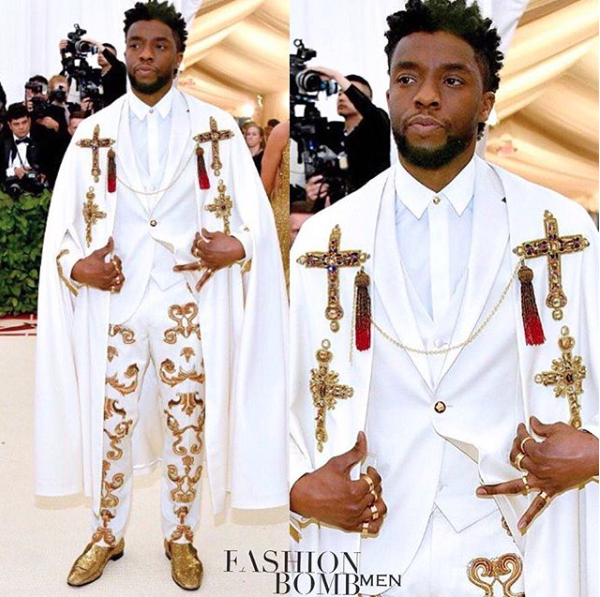 6. Zendaya momentously mesmerized us in this metallic gown.

7. Yellow and melanin go together like Gabby and Wade, obviously.
8. Migos/Friendosexuded #blackboyjoy in their bold ensembles.
9. Solange rocked a du-rag. Unapologetically black, per usual.
10. Hot mama! You couldn't f**k with Cardi if you wanted to.
11. Somebody please tell 'em "who the 'F' she is!" Nicki slayed us in this red.
12. Lena proudly represented for the LGBTQX community, and looked incredible doing it.