This Student Learned Bey's Coachella Choreography In Just 40 Minutes And Slayed: 'That's What Beyoncé Would Do'
Sis just made it to Ellen!
April 24, 2018 at 7:33 pm
Update: The Virginia state freshman who absolutely killed her rendition of one of Beyoncé's Coachella dance routines has taken her moves to the set of "The Ellen Show." On Tuesday, Twitter sensation Briana slayed Bey's moves yet again, but this time, she got the stage she deserved. Watch the video below:
Original story: We all patted ourselves on the back for staying up until the wee hours of the morning to watch Beyoncé's two-hour Coachella headlining performance. Dubbed "Couchella," those of us who couldn't head to the Californian desert festival grabbed our snacks and sat awaiting Queen Bey.
As we got our lives from the marching band and choreography, some of us even got up ourselves to dance around our respective living rooms and bedrooms. But, the question is ... are any of us on Briyonce's level?
If you thought I was about to sit here, learn choreo & dance like I'm one of Beyoncé's backup dancer... YOU'RE ABSOLUTELY RIGHT!😂👌🏾🔥#BeyChella pic.twitter.com/157vovRFjG— Briyonce (@imbriyonce) April 18, 2018
YAS, SIS!
The "Everybody Mad" by O.T. Genasis mash-up was one of the top moments of the night, and Briyonce nailed it! And everybody was the OPPOSITE of mad! We were living!
Briyonce, whose real name is Brianna Bundick-Kelly, chatted with Teen Vogue about her viral video.
"I've had a video do well before but never like this," she said. "Everyone is calling me and everything and I don't know how to react." Plus, it only took her about 40 minutes to learn the dance, but she took an extra hour to perfect it because, well, "that's what Beyoncé would do."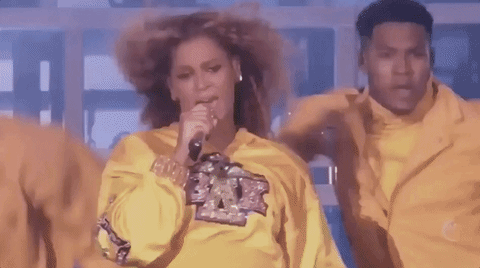 And just in case you're wondering, YES she would love to dance back-up for Bey. Because, duh!
"I would love to be in the part of the performance when she had a dance section where she brought out the thicker girls, but honestly I wouldn't care where she put me," said the Virginia State University freshman. "If Bey asked me to join anything ever, I would do it without question."
Oh, and Briyonce ain't new to this, she true to this! She also went viral when she recreated a dance from Bey's Formation tour!
I may not be going to the Formation tour... so I might as well dance like I'm ON IT! 😂💯💜 pic.twitter.com/amxb3ZHmNY— Briyonce (@imbriyonce) May 6, 2016
We stan this Bey stan queen!