What's the best Black sitcom 0f the '90s?
April 02, 2015 at 5:30 pm
The Fresh Prince of Bel-Air

 by @cheztheprez
This was an easy decision for me considering I have watched every single episode of this entire series at least three times. The Fresh Prince of Bel-Air could serve as your quintessential guide to the '90s. It brought hip hop culture to America's living rooms and was overall a pretty progressive show at the time. No other show could make you laugh, think, or cry quite like The Fresh Prince of Bel-Air.
1.  Will Smith was that dude! The first rapper to ever win a Grammy had his own TV show at what seemed to be the height of his rap career (little did folks know what was next) and tackled stereotypes and social norms while making you laugh for 30 minutes. Will Smith had all the fresh gear, a cool family with money, and dated all the fine Black ladies from the '90s on his show. If we're talking clothes and kicks, Will Smith was the freshest character of any '90s sitcom.
2. Will Smith gave us the best show intro ever. I've seen DJs drop the show's intro during parties. Something magical happens when you hear "Now this is the story all about how my life got flipped-turned upside down…"
3. The Banks family was funny, rich and authentically black. They were the more hip-hop, modern version of the Huxtables. You wanted to have a family like them where you could hang out with Will, laugh at Carlton, use Hilary's credit card, have a cool sister like Ashley, get life advice from Uncle Phil and have the GOAT TV mom in darkskin aunt Viv (we only acknowledge the darkskin aunt Viv, b).
4. You still dap people up like Will and Jazz.
5. The Fresh Prince of Bel-Air was not only hilarious, but it was extremely socially conscious as well. With episodes that tackled police profiling, protesting injustice, Black history, and interracial dating, The Fresh Prince of Bel-Air tackled all of the discussions on race that were going on in the '90s.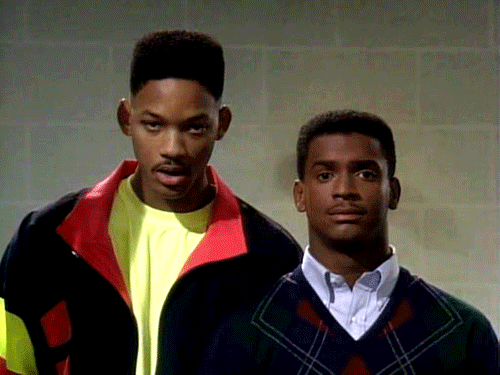 6. The Carlton Dance is iconic.
7. And this made everyone cry no matter how tough you thought you were.
Living Single
by Emery Desper @yreme_
It's an easy decision for me — Living Single is, hands down, the best of the best because of its forward thinking vision of what women are capable of. With Queen Latifah at the helm of this show we got to see the beauty of hanging with your girls in your 20s well before anyone placed the burden of cool on that age group. We saw powerful, funny, stylish, emotionally complex Black women command the screen while doing it up in BK.
1. Seeing Queen Latifah aka Khadijah James run her own urban magazine opened my young mind up to a whole new world of possibilities. Even though I was barely able to read when the show aired, my encounters with re-runs during my more formative years continued and I began to really understand the value of this groundbreaking series. Khadijah proved you could be cool, own your business and command attention with written words. Synclaire James (Kim Coles) was the dreamer of the bunch and the ever so spritely bubbly assistant at Khadijah's magazine. Her character was lovable, easy-going and her braids/hat combo were to die for. Regine Hunter (Kim Fields), the aspirational, sometimes gold-digging fashion maven hipped me to the importance of appearances at a young age. Her style and flamboyance were hilarious, but she got to shine a light on the power of making a statement with what you wear. Maxine Shaw (Erika Alexander) was the powerful lawyer with an endless appetite and an exaggerated personality. I would argue that Living Single set the precedent for shows like Sex and The City and Girls, which all focus on the trials of women living New York.
2. Living Single reaffirmed that being a single Black woman is in fact something interesting and wonderful to aspire to. Not because men were not needed or allowed, but because the lives of these women were so interesting based off of their interactions and living with each other. This proved that their female friendship was the prize to be won during that pivotal time. Kylie Barker (T.C Carson) and Overton Wakefield Jones (John Henton) rounded out the cast with some gentleman-ly perspectives, but the fact that this series was always for and about the ladies puts it on the top of my list.
Representation is important, and when you need to look to strong interesting woman having fun, accomplishing a laundry list of impressive goals and looking good while doing it all, there isn't a better show to turn to, even 20 years later.
the Proud Family
 

 by @MorganDeBaun

First let me start by acknowledging that this was not in the '90s…. I'm a millennial so I don't follow the rules and am picking The Proud Family anyway. Here are my reasons:

1. Dijonay is the homie and always kept it real.
2. Solange and Destiny's Child sing the theme song… BEAT THAT FAMILY MATTERS AND MARTIN.

4. This was my jam too.

5. They had so many guest stars, including Omarion, Mariah Carey and Shia Labeouf.
6. 15 cents aka OMARION – arguably better than 30% of rappers playing on the radio.
Everyone should agree with me and tweet @Netflix with the hashtag #addproudfamilytonetflix2015.
Sister, Sister

by Genesis Mendoza @genxrabbitink
This was an easy decision for me considering my sisters and I can relate to Tia and Tamera's crazy shenanigans (we're not triplets though people swear we are — looking at you, annoyingly insistent Dollar Tree cashier).
Sister, Sister was one of the best Black sitcoms of the '90s because:
1. It showcased the beauty of having a sister. One scene of their authentic friendship and sister shenanigans is refreshing to watch, especially compared to today's normalcy of on-screen girl hate. And whether or not bounded by blood, like Tia and Tamera we all have that one person in our lives we're in sync with (but, c'mon, these girls made you wish you had a long-lost twin).
2. It Redefined family. Having been separated at birth, united as teens, and adopted by single parents who raise the girls as platonic partners — the twins don't quite have the standard family (and I say that with air quotes). Add that in with the surprise revelation of their biological father, who happens to be white and a famous photojournalist, and you have one intriguing, eyebrow-raising family story. Still, at the end of it all, the kooky, loving union of Tia, Tamera, Lisa and Ray proves that it takes more than bloodlines to form a family.
3. It detailed the crazy hijinks teens still try to pull to this day. Sneaking into over-21 dance clubs, playing hooky, getting a tattoo without parental agreement, dating boys waaay older than what mom would approve… pretty much what millennials are doing today. In other words, totally timeless and relatable.
4. It featured a whole range of guest stars — Christina Milian, RuPaul, Brian McKnight and Taraji P. Henson (heeey, Cookie) are just a few from the long list of celebs to make cameo appearances. Plus, the episode featuring the Olsen twins was every tween girl's dream come true.
5. It birthed one of the most memorable catchphrases: "Go home, Roger." Need I say more?
Bonus: The twins are still shining bright on the TV screen sixteen years after the show's 1999 finale — Tamera is one of five outspoken co-hosts of The Real while Tia currently stars as party-girl-turned-stepmom in Nickelodeon's Instant Mom. How's that for sister star power?
1. Martin was about friendships. The messy, ridiculous, and oftentimes harrowing tales of growing together (and sometimes apart) that are, in some respects, representative of our 20s.
2. Martin was about relationships. Gina and Martin loved each other, but they spoke different languages so often that it often ended poorly when it didn't have too. As ridiculous as it was sometimes, the comedy underpinned the reality; sometimes, we really don't know what we're doing.
3. Martin was about the clothes. Nothing says '90s like the outfits on Martin. All colors were accepted, and the more that made it on screen, the better. It harkens back to simpler time, when no one asked why you wore a rainbow sweater with white pants and gold shoes.
Also..if you're awake, you have TV One, and it's past 11 p.m., what else are you really about to be watching?
A Different World

by Kelsey Riley @fenix_rising_
I have been a fan of this show for forever. I used to have my Dad record the episodes on VHS tapes so I could watch them on weekends (clearly showing my '90s childhood here). A Different World, a spinoff of The Cosby Show, showed the world what it was like to attend an HBCU, the fictitious Hillman College located in Virginia. This show has inspired so many people beyond the show's lifetime, including a clothing brand and even Kanye West.
"Lock yourself in a room doing 5 beats a day for 3 summers

That's a Different World like Cree Summer's"
— "Spaceship," Kanye West feat. GLC, The College Dropout
The household favorite made waves on social media when it was added recently to Netflix and memes like one I created went viral:
The show initially focused on Denise Huxtable (Lisa Bonet) trying to fulfill her family's legacy at Hillman, who later "dropped out" in season one and was written out because of her pregnancy.
The show then focused on the dynamic cast and introduced one of the most famous odd couples: southern belle Whitley Gilbert and charming math whiz Dwayne Wayne:
A Different World was one of the first shows to discuss HIV and AIDS, and also discussed hot topics like domestic violence, slavery, racism, sexual harassment, the L.A. Riots, Persian Gulf War, date rape and more. Debbie Allen, who was a producer-director on the show from the second season onward, was inspired by her experiences at Howard University. The star power evident on the show runs deep with appearances from Patti LaBelle, Gladys Knight, Jesse Jackson, En Vogue, Halle Berry, Lena Horne, and even Tupac as Lena's (Jada Pinkett-Smith) boyfriend from home.
This show impacted me much in the way Spike Lee's School Daze did, giving me an idea of what it would be like to attend an HBCU so much that I chose to attend one. Like School Daze, it was filmed in Atlanta on the campuses of Clark Atlanta University and Spelman College. It also showed Black students excelling in academic spaces, coming from various socio-economic backgrounds and with different political beliefs. While my experience in undergrad at an HBCU wasn't exactly like School Daze or A Different World, there certainly are pieces of it that I can relate to and Black students in college in general can relate to.
In August 2012, Debbie Allen tweeted that she was hoping for a reboot of A Different World:
And over a million people across social media platforms and blogs reacted to this news. Oprah reunited the cast for an episode of Oprah: Where Are They Now? with Sinbad, Dawnn Lewis, Cree Summer, Jasmine Guy, Kadeem Hardison, Darryl M. Bell and executive producer Debbie Allen here:
Needless to say, A Different World is clearly one of the best for recreating the HBCU experience, the '90s fashion, the tough topics, and having celebrities grace the screen. Come on back to Hillman and add it to your Netflix queue.
'90s sitcoms were dynamic, highly entertaining and unapologetically and authentically Black. '90s sitcoms showed the average person it was cool to be Black, have a family, enjoy hip hop, go to college, and all kinds of things that we never saw Black people do on TV. For sitcoms, the '90s is the golden era of Black sitcoms. If you wonder why Millennials are so awesome, look at the shows that raised us.
What's your favorite sitcom? Join the debate and tweet why your favorite show is the #BestBlackSitcom.
want more content like this in your life? subscribe to our weekly newsletter below.
[mc4wp_form]