These 9 Groups Need Their Own Biopics
New Edition isn't the only group with a story to be told.
February 14, 2017 at 2:03 am
If you have not watched the New Edition biopic, girl you're late and your performance shows it. However, seeing as it came on BET, I'm sure it'll be on at least once a day for the next few years.
Now that we know a biopic can be done correctly — and yes, I am side eyeing you Lifetime — I want to see more stories of our R&B past.
1. Salt -N-Pepa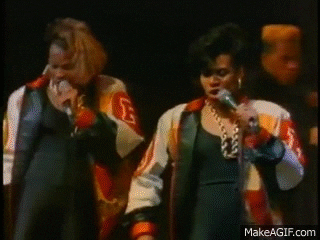 Photo: MakeAGIF
These women are my favorite rap duo of all time. Their hits, from "Push It" to "Whatta Man," showed not only that women could rap, but that they could have create successful, popular music. In the late 1990s they stopped making music. We need to know details of their breakup. Salt-n-Pepa created some of the most pro-woman anthems of all time. What better group to teach us about women's solidarity at this grab her by the pussy point in time than the women who made "Shoop" the greatest empowerment hit of all time?
2. Mackadocious
Photo: Disney
If this group doesn't seem familiar to you, you didn't watch Smart Guy, which is really a shame. Mackadocious appeared in several episodes of the show, and was made up of the characters Marcus Henderson, Mo, and TJ. I want to know what happened after the group's members matured. Did they change the name, because it was outdated even when the show aired? Did they become like Hanson and age gracefully together? Or did they just become another teenage band that couldn't hack it as adults?
3. Guy
Photo: Todd Gray
If you want to talk about the greatest fuckboy song in history, there is no competition for "Piece of My Love." The whole song features Guy promising to not promise you anything, and that's pure fuckboy magic. Guy has had their share of turmoil and foolery. I want to see Aaron Hall's drug habits, Teddy Riley being a great Virginian, and learn what the third dude's name is for the first time. Guy was so influential to the New Jack Swing era of music, but they never quite made it and it certainly is not a secret why.
4. En Vogue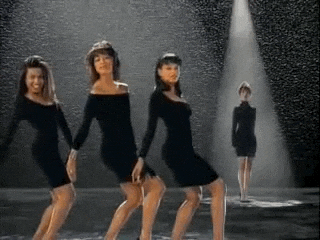 Photo: Atlantic
I'm going to go out on a limb and say that En Vogue may just be the best female R&B group, vocally, of all time. The provided us with soulful singing and dope throwback visuals. Let us not forget that these four women sang the hell out of one the most deeply moving songs from a movie soundtrack, outside of The Bodyguard. Yeah, I said it. En Vogue was what black girl magic felt like before we knew what hashtags were, but internal fighting took a toll on the group. I feel the nostalgia of watching the recreation of their videos alone is worth a television movie.
5. Jodeci
Photo: Uptown
My fellow North Carolinians and Southern Virginians form a super group here. Jodeci is what I like to call "Roughneck R&B," because they sang from their souls, but you could definitely ask them to fix your carburetor for a case of beer and $250. I want to watch the crack days, the days where Mary was dancing off beat and I really want to know what ancestral spirit influenced the oldest, blackest song in history, "All My Life."
6. H-Town
Photo: Luke Records
This is for Dino. H-town has such a strange legacy from being signed by Luke Campbell, to having one of these greatest sex songs in history to their lead singer dying in a tragic car accident. This group had a compelling start, but the most interesting thing about them is how, around their third album, they become champions for women. They sangs songs about supporting women's equality, and even created a song about spousal abuse as it pertains to women. We need to see the story of how they went from being your stereotypical Luke Records artists to being R&B feminists.
7. Xscape
Photo: Bossip
Black girl magic lead singers? Check. Hype Hair magazine hairstyles? Check. Overall Southern girl chillness? Check. There's nothing better than listening to "Just Kickin' It" while drinking jungle juice with your girls. This Atlanta group was the coolest group to rock overalls in the 90's. While we all know who became stars from this group, it isn't exactly clear why. Obviously, the Scott sisters are much better singers than Tiny and Kandi, but for whatever reason they have no relevance in music today. One of them doesn't even have a Wikipedia page! What is the tea? Ya'll had the goods, the hits and a great writer in Kandi, what gives? Supposedly, they just can't get along long enough to make an album. Girl if you don't … look, all that magic had to come from somewhere, and maybe a movie telling everyone's side of the story will inspire them to reform for more of that black girl coolness.
8. Destiny's Child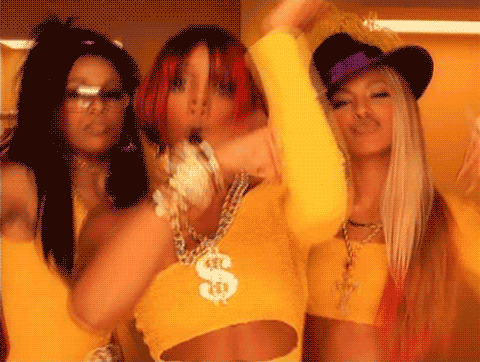 Photo: theberry
I've already written a script for this one and just need the green light. Obviously the movie will be named The Writing's on the Wall, and I want Area 51 levels of tea exposed in this movie. Because, really, Destiny's Child has more secrets than the U.S. government and all our black grandmothers combined. Did ya'll really kick Le and La off that bus in the desert? Is Kelly really their sister? What happened to Farrah? Destiny's Child has so much to teach us!
9. B2K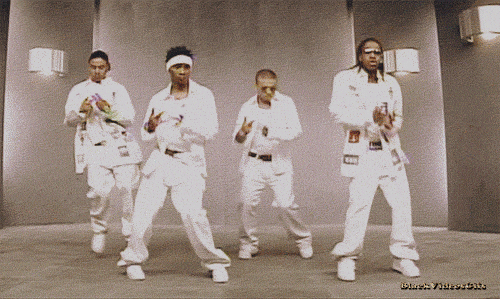 Photo: conversationswithamusicjunkie
Girl. Ma'am. Madame. Omari Grandberry, Dreux Frederic, Jarrell Houston and Demario Thorton. They. Were. My. WORLD! I had posters everywhere in my room! They made four albums,including one of the most fuego Christmas albums of all time, went on a million tours, made one incredible movie and then one day it was over. Just like that, a raisin dried up in the sun. Yes, that ol' Benedict Arnold Omarion just went on with his life making decently dope music, but that's not something we need to discuss. I just want to know what really happened. I need a remake of the scenes from the BET Awards. We need an exploration of the obvious tension between them and Raz-B. And, hell, IMX can still play themselves, they don't age. Please let this be the next one!